The importance of forging a strong sense of community was at the heart of the 2023 Surface Design Show as we found out when we went along to London's Business Design Centre earlier this month.
Inspiration came thick and fast with this year's theme, 'Shaping Communities' reminding us that it takes a host of individuals to create a community – from people at the urban planning stage – through to the people who will eventually occupy the work and hospitality spaces.
Walking the exhibition floor, there was plenty of food for thought about how we can all build stronger relationships between people and places and forge a sense of community that reflects society's values, without damaging the planet.
It was great to hear about the important role the design community can play in shaping spaces too. By making positive contributions when it comes to colour, material and surface decisions we can all make a real difference, helping to achieve a sense of balance, playful activation and restorative calm in the urban environment. A design legacy to be proud of.
Another key take-away - and one we proudly champion at the studio – was the emphasis on innovation, collaboration and partnerships to foster progressive design solutions. Highly relatable, this theme resonated widely, sparking lively discussions, idea generation and a general feeling of togetherness across the two-day event.
With more than 180 companies exhibiting we were blown away by the talent shown by emerging designers and established brands. A highlight, as in previous years, was the creative use of colour – with numerous vibrant examples shared widely on social media during the week of the show. We will be showing some of the many materials across our social media channels - in the meantime, here are a few that caught our eye.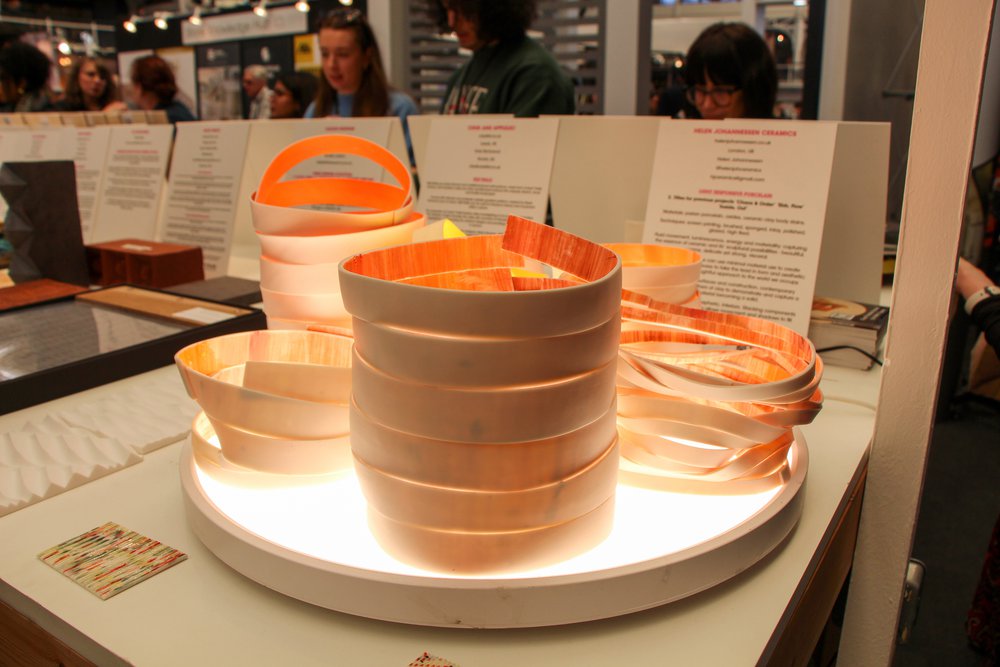 Lighten up your interiors with Helen Johannessen Ceramics
Helen Johannessen Ceramics
Light responsive porcelain crafted by this award-winning ceramist was selected by trend and colour expert Sally Angharad for inclusion in Surface Spotlight Live – and it's easy to see why. Helen's porcelain creates beautiful and illusionary effects with texture, tones and form. Slithers of cast clay and Parian porcelain pieces are carefully joined, stacked, balanced or draped to create each unique piece. Used for sculptures and interiors, the work epitomises meaningful design and craftsmanship that manages to improve and enhance our surroundings. Simply stunning.
Midton Acrylic Design 
Europe's leading casting foundry, Midton, didn't disappoint with its curated selection of acrylic designs. The specialist in artisan production showcased a selection of some of its custom-made products, which are used in interior design and for sculptural castings and lighting components.
We were particularly keen to learn more about Remade, the innovative, circular material, which contains up to 70% industrial waste content, as well as hearing about Midton's full design and manufacturing service available globally. Purposeful design at its best.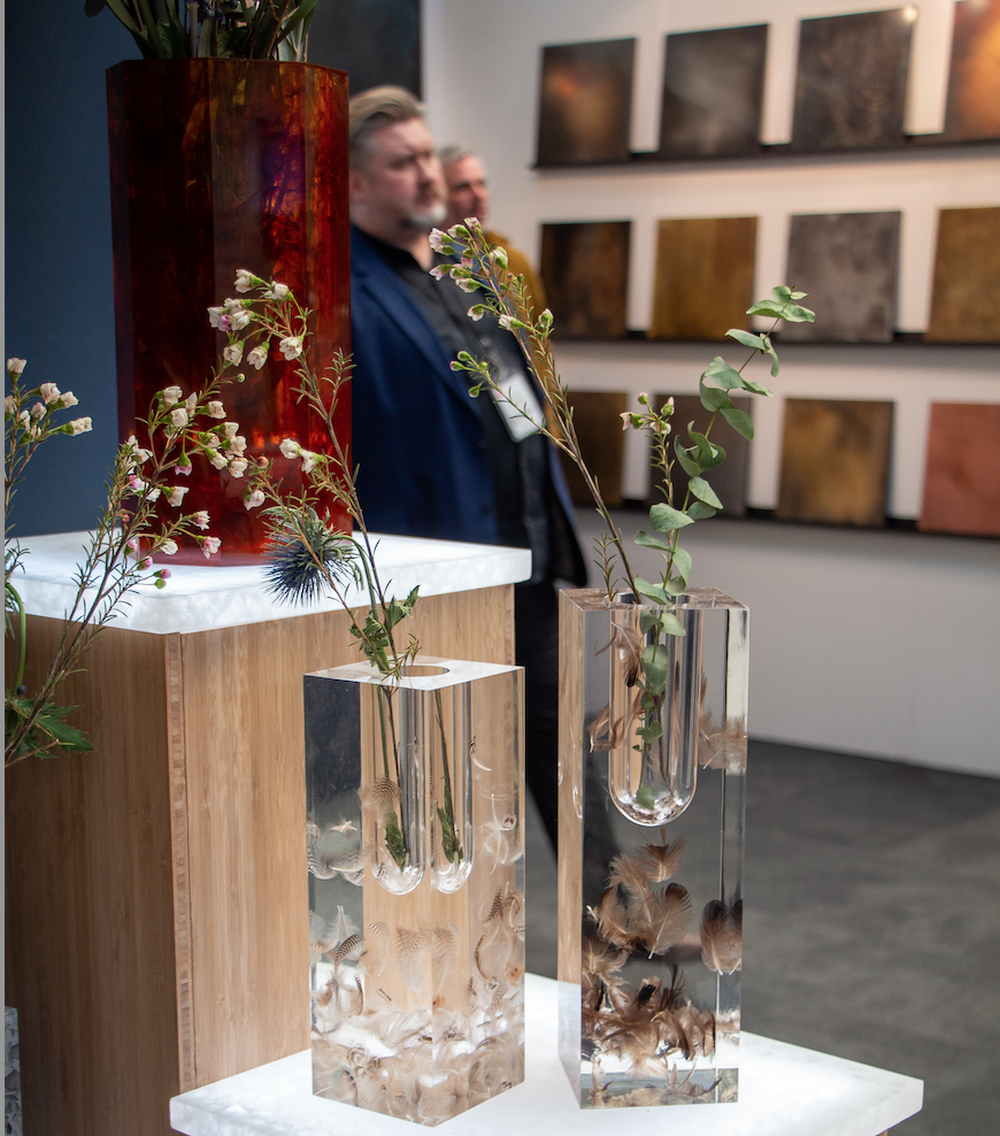 Midton use recycled acrylic for its custom made products
Florence Sargent's biodegradable foam 
What if everyday foam could be designed as a sustainable and biodegradable material…? This was the starting point for the development of Florence Sargent's innovation following a brief set by the Royal College of Art to create new materials that would be better for our health and better for the planet. Derived from bones, the foam can be recycled and regenerated and the colours are produced using natural ingredients. Eye-catching and vibrant, the foam is perfect for public interiors, especially for creating functional and striking seating designs. Lots of boxes ticked we think you'll agree.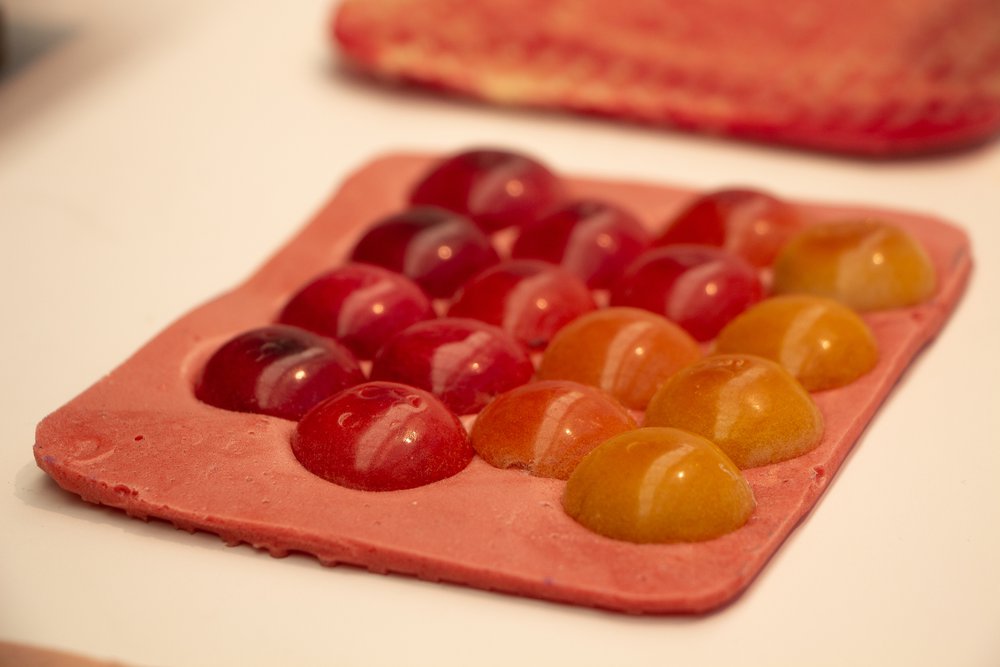 Florence Sargent's biodegradable foam - each naturally-coloured nodule provides bounce and tactility for enhanced engagement between user and space.
If you'd like to hear more about other cutting-edge materials, or you're just looking for inspiration, why not visit our studio or check out the latest trends and news on our Instagram account.