From the pens we write with to the doors we open, and packaging of our shoes - plastic is a dominant material in our everyday lives. While the increasing accumulation of this non-biodegradable material continues to contribute to our planet's global warming, individuals, businesses and governments are making changes to reduce single-use plastic. However, with global plastic production still around 380 million tonnes per year, and more than 90% of that still becoming waste, we need to do more.
To challenge society to reduce its plastic consumption, the Plastic Free Foundation set up the Plastic Free July campaign, a global movement that helps millions of people be part of the solution to plastic pollution. Globally, they've reduced 2.1 billion tonnes of waste and recycling, including 300 million kgs of plastic consumption. And with a host of resources available on their website, it's never been easier to start the move towards plastic-free. For additional inspiration, we've pulled together some plastic-free initiatives from across the design world.
Our partner solutions
Newcomer to the studio, Abode's innovative Swich product converts any tap into a water filter. With a small filter under the sink and a divert Swich above, users can seamlessly switch between filter and regular tap water. Designed to provide better-tasting water for refillable bottles, the Swich device removes the need for single-use plastic bottles. And with each filter replacing the equivalent of 8000 one litre single-use plastic bottles, if we all make the "Swich" we could make a big difference!

Swich by Abode
Constantly striving for more ways to be sustainable, Johnson Tiles has eradicated single-use plastic from the packaging of all UK-manufactured ceramic products. As the first tile manufacturer to do this, they have reduced their plastic use from 70 tonnes to zero per year, resulting in a reduction of 260.2 tonnes of CO2! The fully recycled and recyclable packaging now uses plant-based sugar cane wrap and is carbon neutral.
Plastic reimagined
With so much plastic already polluting our planet, we must recycle as well as reduce. The Good Plastic Company creates decorative panels from recycled plastic that have been used to fashion everything from desks, wall features and shelves, to coat hangers. Using only renewable energy, each panel is made to order from just one type of plastic, produced from 100% recycled and recyclable plastic. Distinctive, durable and reusable, the panels are scratch and chemical resistant, waterproof and rot-proof.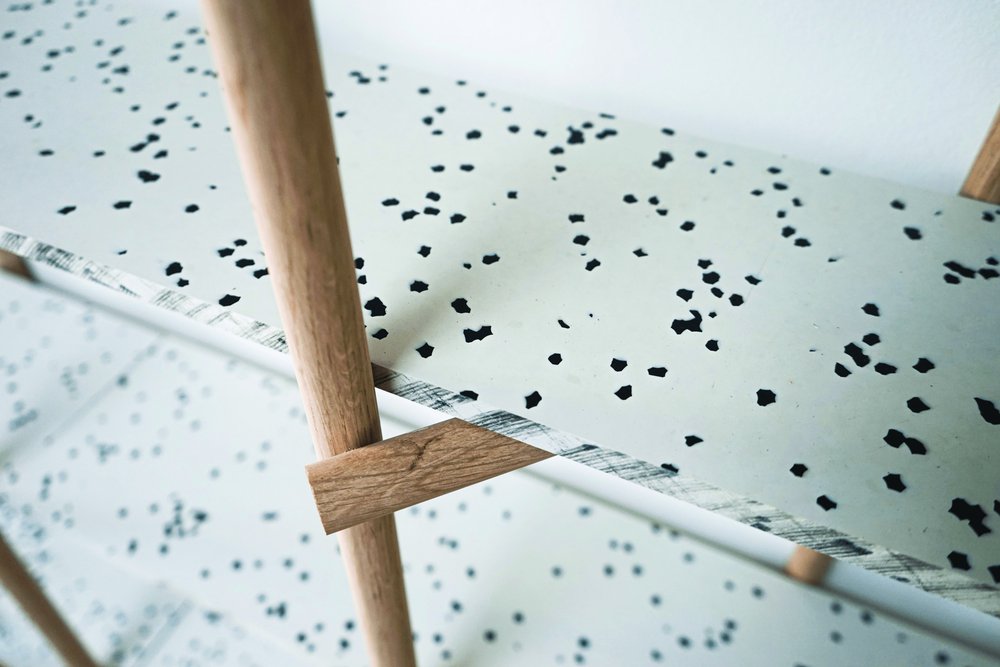 Decorative panels produced from 100% recycled and recyclable plastic
Giving recycled plastic a new purpose, artist-designer Yinka Ilori has created this statement community pavilion in the heart of Berlin. Combining reused scaffolding and translucent conical disks made from recycled plastic, the structure plays with material, light and colour, showing that reused materials can really add a sense of vibrancy to a space.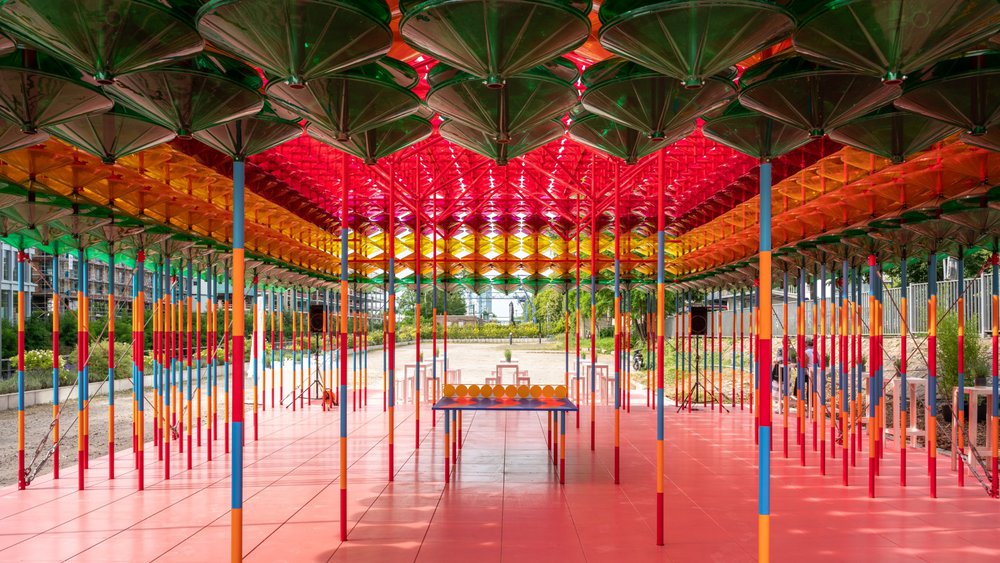 Filtered Rays pavilion made of reused scaffolding and translucent conical disks derived from recycled PTFE
With so much opportunity to reduce our plastic waste, or turn it into something new, it's an exciting concept for designers to explore! By each doing a little, as individuals, businesses and communities, we can see big change, but the future starts now, and it doesn't end when July does!
Inspired to learn more about plastic-free and reused materials? Visit Material Lab to discover a wide range of materials.