As summer rolls into autumn, we're starting to see the annual shifts that take place in the trends that shape our design and colour preferences.
From the design schemes driven to inspire us back into the workplace, to the hybrid residential and commercial colourways gripping our social channels. We take a look at the trends predicted to be guiding the materials, textures, and colour palettes this 2022/23 Autumn Winter season.
Trend 1: Hybrid colour palettes
When it comes to colour, the experts at Pantone Colour Institute are the ones to watch. And it's no surprise to see that in the post-pandemic reflective space we all find ourselves in, they predict that the colour trends we'll see for the rest of 2022 will reflect the hybridised lifestyles and contradictory yearnings that have come to define the present. Involving a dichotomy of bright, bold colours and natural, calming tones - shades that demonstrate an explorative phase of life. The former embodies our desires to embrace life with full vigour and enthusiasm following years of restrictions, whilst the latter satisfies our need for steadiness and certainty that arises in times of turbulence.
As we move into Autumn Winter 22, these colours will become richer and more intense to resonate with the darker, moodier hues that we tend to prefer in the winter months. Think deep navy blues, intense burgundies, and burnt ambers - all shades that transform interior environments into cosy hideaways capable of providing much-needed shelter from the elements outside. The experiential and psychological effects of using darker, deeper colours is the creation of spaces with more intimate atmospheres that invite people to feel warmer and more protected.
Examples of colours we'll be seeing everywhere in the coming months are:
PANTONE 18-1555 Molten Lava - A fiery red tone whose intensity burns bright in times of darkness.
PANTONE 19-1419 Chicory Coffee - A roasted, earthy brown that comforts like a warm cup of coffee. P
ANTONE 19-4021 Blueberry - A deep, dark indigo blue that's as sweet as it is rich.
Dulux Dark Aubergine - A rich purple that drips heritage and luxury.
Trend 2: Layered textures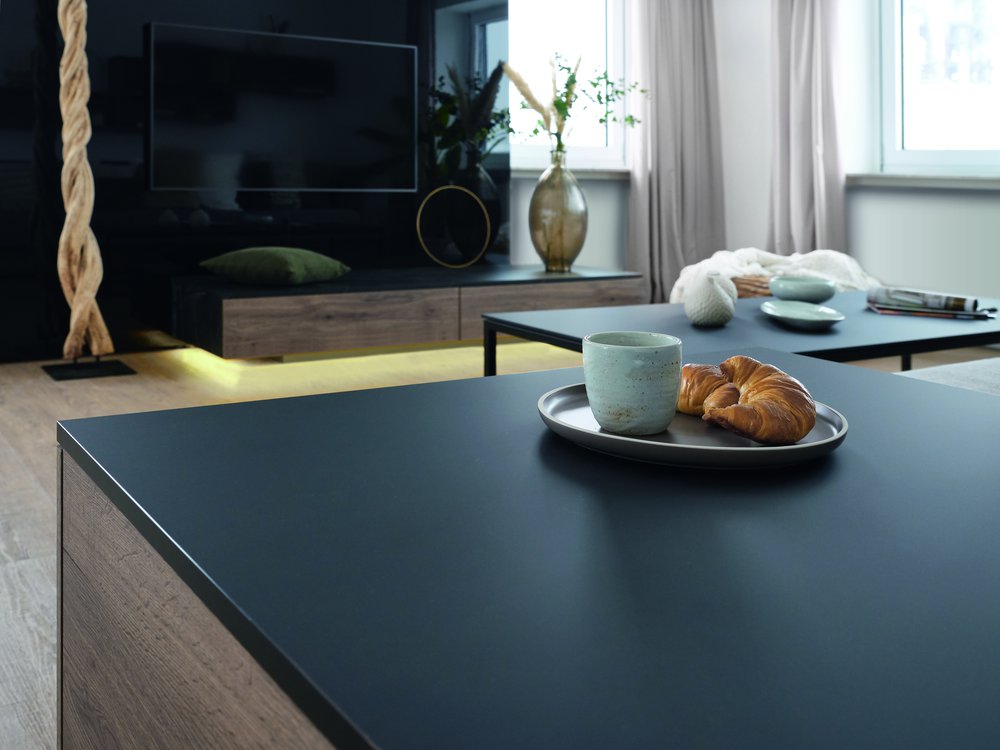 EGGER PerfectSense Premium and PerfectSense Texture lacquered panels
The autumn and winter months are the time for layering up as the weather grows colder, but this is something that will permeate through into our interior design choices too. Insights from this year's Helsinki Design Week hint that interior schemes will be dominated by the fusion of different materials and textures so create layered environments that subtly reinforce ideas of cosiness and security.
In practice, this might see residential and hospitality designers choosing to combine hardwood floors with a range of softer furnishings such as rugs, curtains, and throws to create spaces with far greater senses of depth. As well, designers will begin using similar textures alongside one another to create coherent yet multidimensional schemes. This will likely be seen in hotel rooms and other commercial interiors, with wooden floors being paired with accent panels on walls, desks, and furniture.
EGGER's PerfectSense Premium and PerfectSense Texture lacquered panels are ideal for achieving this effect, providing designers with a range of colours in matt and gloss finishes that can be used to complement and enhance a room's other features.
Trend 3: Organic materials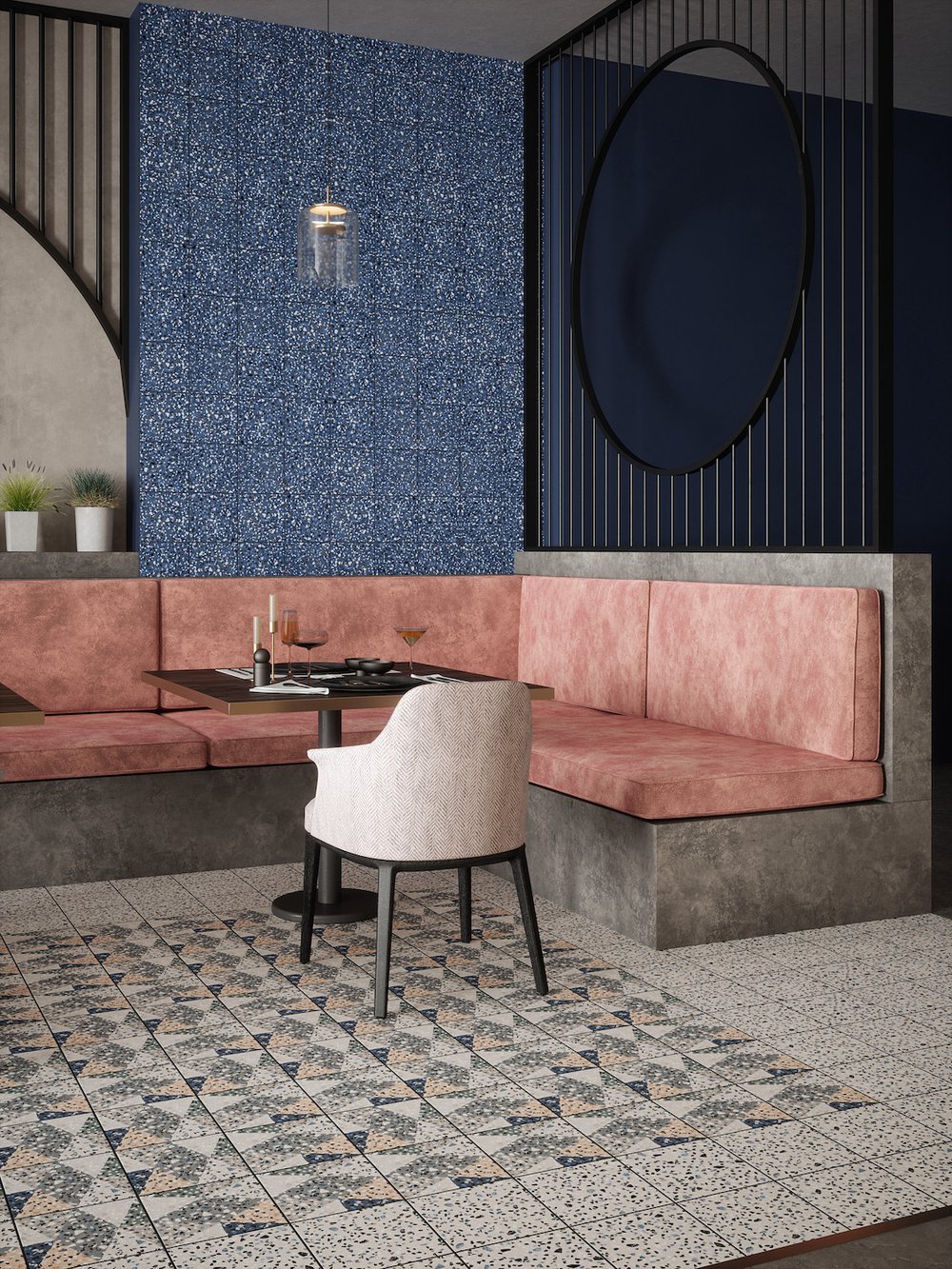 Lucca glazed porcelain White, Blue & Diamond Multi Décor Natural tiles from Johnson Tiles.
The materials we choose in AW22 will reinforce our colour preferences, with nature taking centre stage. Hotels, homes and retail spaces will be rich with materials and colour that combine organic textures and layering. Genuine wood floors and furniture will bring elements of the natural world indoors, with the sumptuous grains of ebony and oak resonating with our desire for deeper, darker colour palettes.
The practice of bringing natural elements into interior spaces is central to the now well-established trend of biophilia. This sees designers working to incorporate plants, plant-based materials, stone, and even water into their design schemes as a way of allowing people to reconnect with the natural world in a direct, physical manner. Of course, as the winter months make venturing outside decidedly less inviting for those of us living in the northern hemisphere, the rationale for this becomes clear.
Patterns and colours that follow the principles of biomimicry - the emulation of natural forms, structures, and systems - are predicted to be all the rage. Insights from our partners suggest that building materials such as tiles that are printed with floral designs will be hugely popular among creatives seeking to add organic accents to interior spaces.
For more insights and inspiration about the material trends that are going to define the months ahead, check out our Instagram page here.