From anti-waste 3D printing, to furniture crafted from hemp fibres and fridge magnets, we look back on some of the most innovative trends from 2023's Material Matters fair.
Following a hugely successful debut, Material Matters returned to the Bargehouse in Oxo Tower Wharf - a former factory turned iconic creative hub within the Bankside Design District. One of the most significant features at 2023's London Design Festival (for us anyway), the fair showcased the world's leading designers who are pioneering the transformative potential of materials.
The unadorned factory was the perfect backdrop to showcase the diverse array of creative talent and inspiring material applications. Providing a glimpse into the promising future of furniture design, the fair also hinted at how this might play a pivotal role in guiding our society towards a more sustainable and optimistic future - one in which furniture goes beyond basic survival, but enables us to truly flourish.
September is always a month packed with design inspiration - and we have been scouring the design shows for new materials and samples to bring back to the studio. With so much to see, it was incredibly difficult to choose which to feature in our top 3 - but we (just about) managed to narrow it down.
Repurposing polymer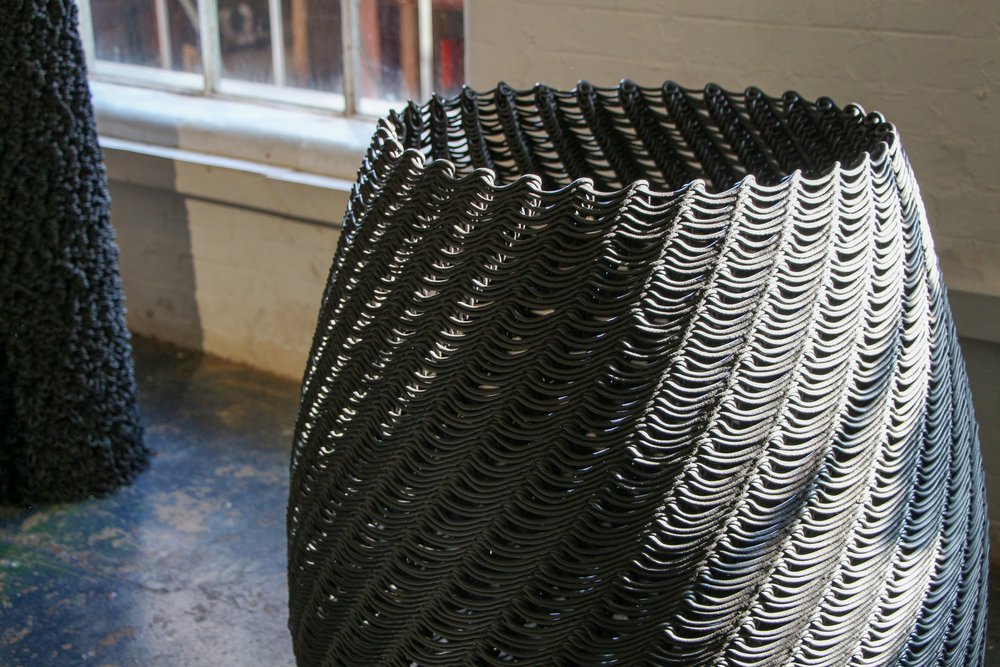 'Digitally Woven,' a project that explores craft techniques in 3D printed recycled polymer.
British designer Gareth Neal and Dutch studio The New Raw collaborated on the "Digitally Woven" series, a groundbreaking project that looks at utilising new 3D printing technology to reduce material wastage. The displayed collection featured items like the eye-catching Loopy pink chair and three vessels resembling woven baskets - all constructed with thrice-recycled polymer, which usually wouldn't be attempted due to the material's inherently unstable nature.
Drawing inspiration from traditional craft techniques, like willow work and knitting, they've been able to create resilient structures that hide any signs of imperfection - and the results speak for themselves.
Thanks to technology's rapid development, we can only hope to see more typically "inappropriate" eco-friendly materials being incorporated into everyday furniture items.
Redefining "kitsch" with kitchen utensils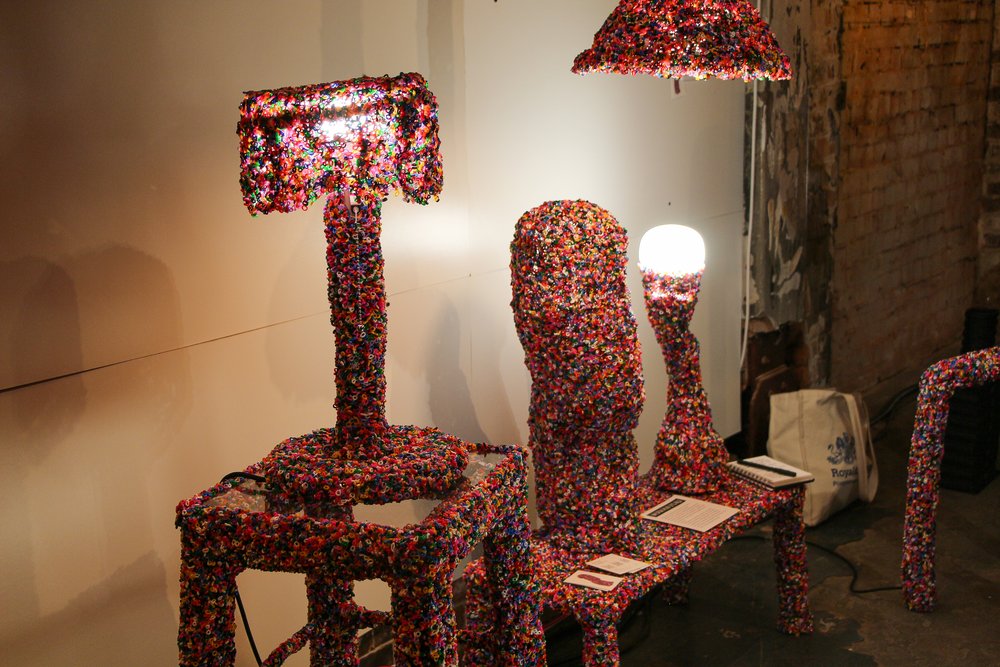 Rowena Liangru Lu
Another one of our show favourites was Rowena Liangru Lu's "Serious Play", an intriguing exhibition which delved into the realm of children's play and its potential for creation. With a penchant for exploring the intersections of art and design, Lu's work is a true sculptural marvel. All of the shapes in her creations are borrowed from everyday kitchen objects, think pots, baking trays, chair legs, and even a wine bottle - so it's no wonder her designs called out to us.
This project has transformed her into what she fondly describes as a 'kidult,' demonstrating that tapping into the depths of our imagination could be our biggest superpower. Repurposing has been a prominent theme at Material Matters, and we expect this to span far beyond the Oxo Tower's four walls (and four floors). Even the most unexpected items could wind up being our biggest inspiration.
The magic of hemp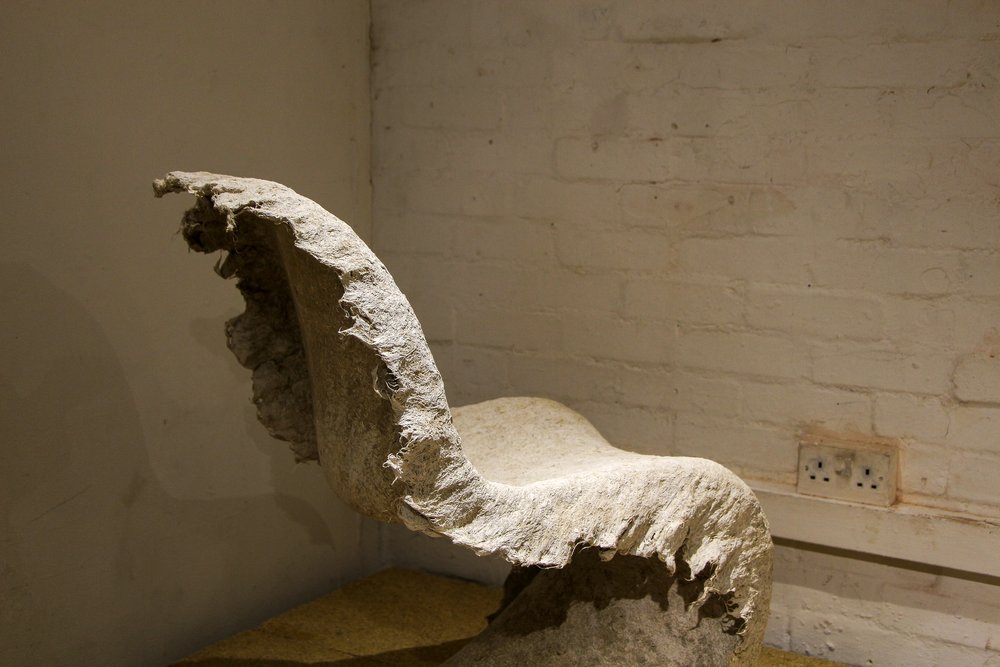 Product prototypes crafted from hemp fibres.
"Material Magic," spearheaded by designer, researcher, and educator Jack Brandsma in collaboration with Innovation Hub East-Groningen (IHOG) and Minerva Art Academy Groningen, is an innovative material research project which took centre stage at the fair. Here, they unveiled product prototypes crafted from hemp fibres, cleverly bound together with either magnesium oxychloride (commonly known as sorel cement) or potato starch.
These prototypes represent the culmination of extensive experimentation by Brandsma and his students, aimed at replacing synthetic materials prevalent in the design industry. Their achievements include a remarkable remake of the iconic Gerrit Rietveld chair by Minerva student Eimert Fossen, and their journey continues as they explore new horizons within the industry.
We felt incredibly motivated by this design project, and can only hope that the adoption of more planet-friendly materials will make their way into classrooms, businesses, and various aspects of our lives.
To tap into more of design's biggest trends, don't hesitate to sign up to our mailing list.
Or, to discover the latest in interior design, visit our studio today. Our team consistently taps into the latest trends to source an extensive range of surface coverings, brought together for the ultimate immersive experience. With partners like Johnson Tiles, VADO, Egger, Abode and Tektura, we strive to showcase the best for architects and interior designers alike.