In the world of interior design, the influence of colour theory can't be underestimated. Each shade possesses the power to completely change the atmosphere and experience of a space, and among them, green has emerged as a standout hue.
Revered for its positive psychological properties, green represents peace, harmony, and a connection to nature. Its calming essence has inspired a rising trend in interior design, with 2020's Biophilic movement at the forefront. Design enthusiasts have embraced wellness and sustainability, transforming spaces into sanctuaries decorated with botanical prints, lush plants, and sustainable furniture. From vibrant homes to sophisticated establishments, green has also become a symbol of luxury and prosperity, injecting spaces with a feeling of security and comfort.
Inspired by our recent deep dive into colour theory, we've curated five green interiors that we're absolutely loving at the minute. 
Muted, earthy tones
Sheffield-based studio From Works has created a bespoke kitchen that draws inspiration from the mossy, rocky landscapes of the picturesque Peak District. The kitchen showcases a blend of green-stained plywood and steamed beech joinery accompanied by elegant grey fossil limestone worktops. With a seamless integration of natural elements and muted tones, the space radiates tranquillity and warmth. A definite thumbs up from us.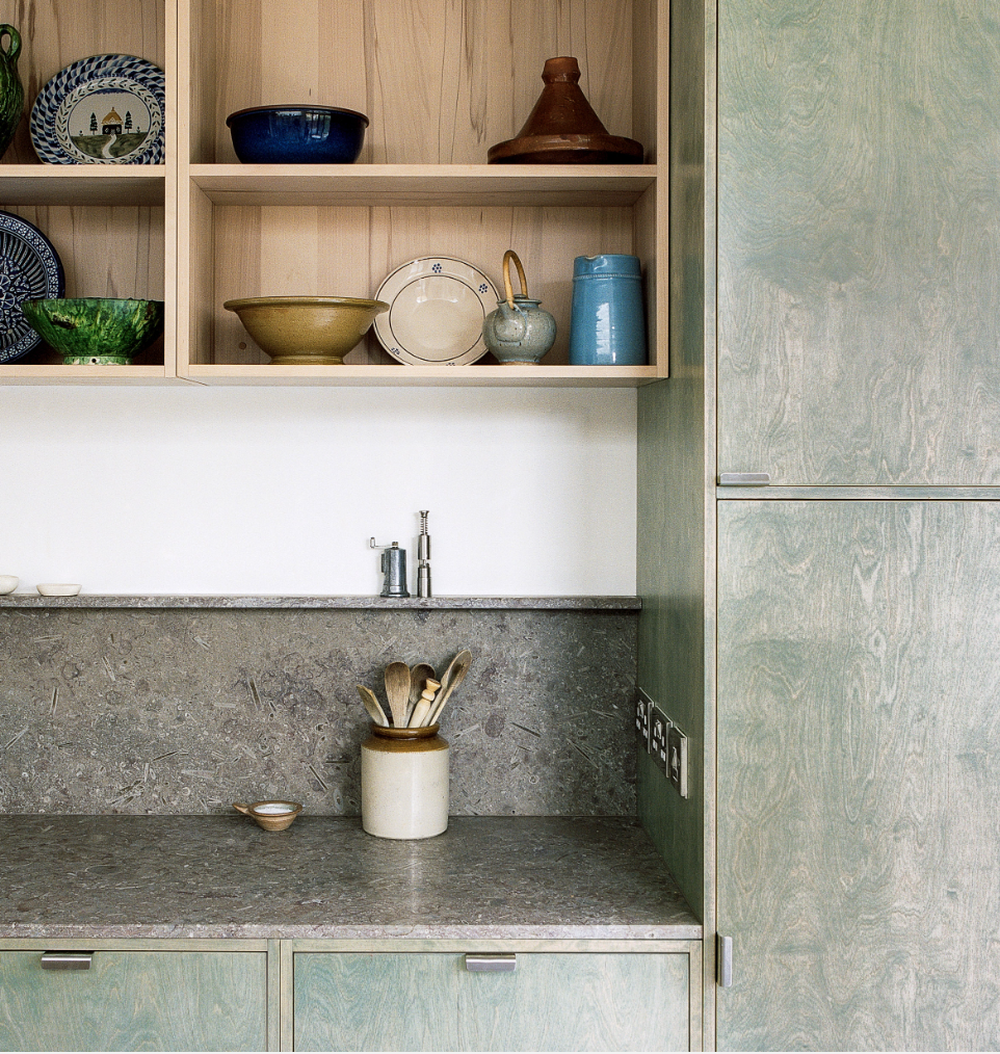 Green-stained plywood wall units handmade in Sheffield.
Urban, leafy greens
Thirdway's design team embraced biophilic design principles to create an immersive experience for its residents at Windmill Green, Manchester. With a palette of leafy greens and energetic peach hues, complemented by the innovative use of live moss floor-to-wall panels, the space effortlessly reflects the city's edgy yet relaxed atmosphere. This thoughtful approach fosters an inviting and informal home-from-home experience, where residents can connect with nature and revel in an urban oasis.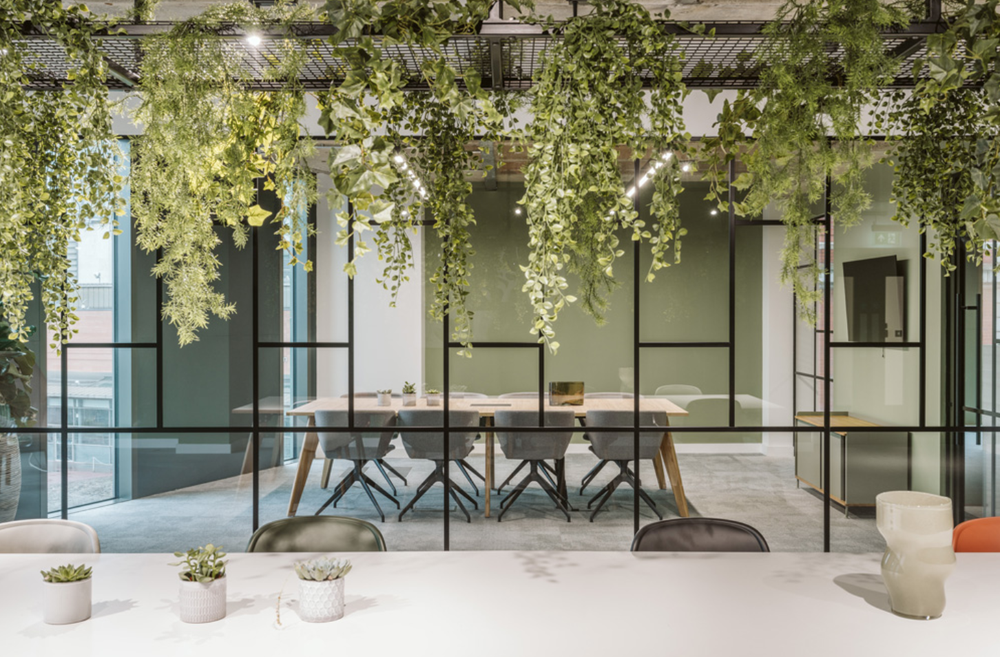 The 4,000 sq ft space boasts a biophilic office rated BREAAM 'Outstanding'.
Bold colour combinations: green meets orange
For a striking, vibrant bathroom, Ola (@thistimeincolour) opted for a bold green colour palette paired with contrasting orange. These are opposites on the colour wheel, which is a recipe for the perfect partnership. The rich tones of green and orange create a dynamic, eye-catching space, while brushed brass fixtures elevate the design further, bringing a touch of modern luxury to the space.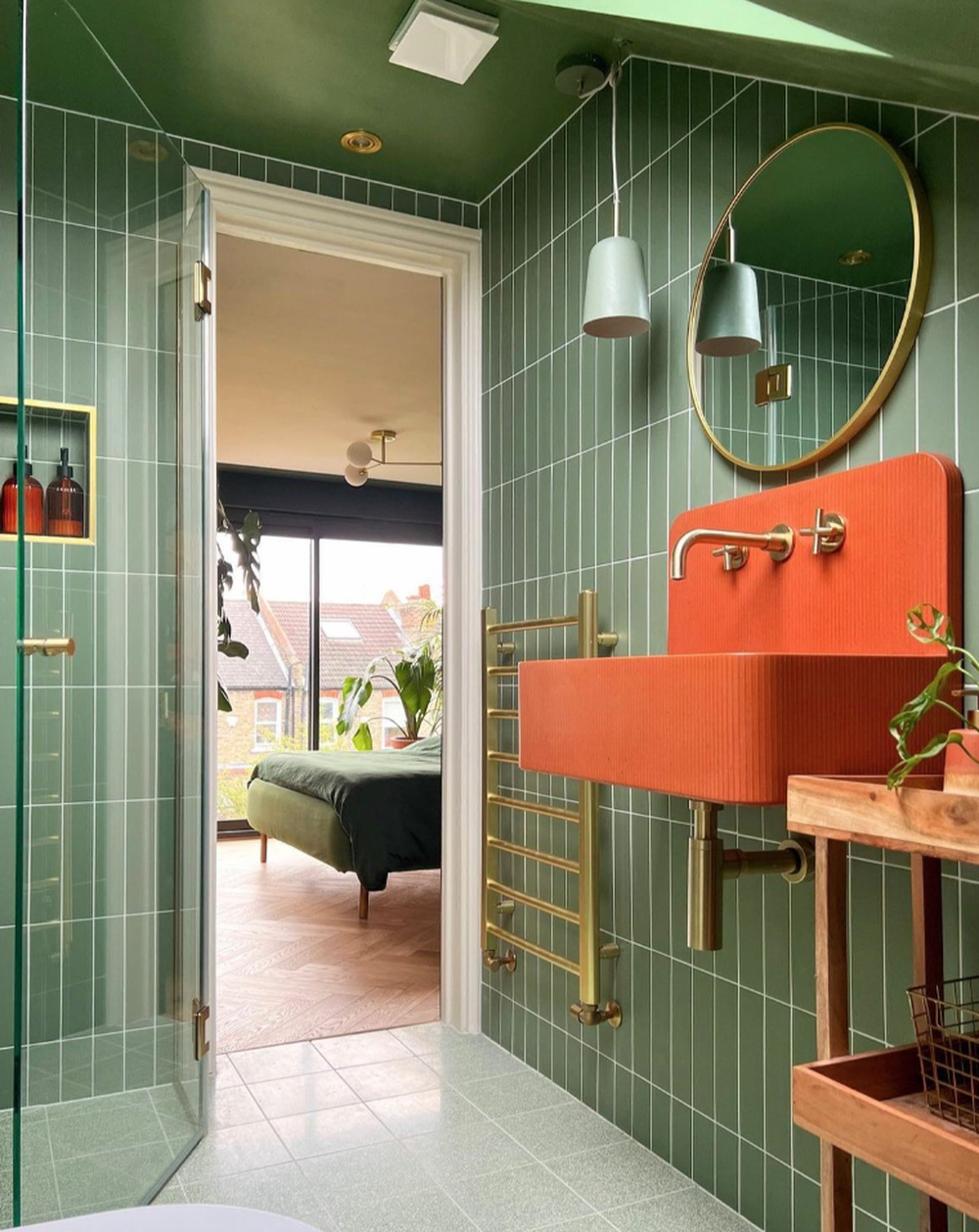 Images & design by @thistimeincolour featuring Kast Concrete Elm basin in Ember.
Sage subtlety
If bold is not your client's style, then adding subtle hints of sage green through plants and furnishings can transform a bathroom into a tranquil oasis. Sage green's versatility allows it to give either a warm or cool feel, depending on the elements surrounding it. With a white wall backdrop, the bathroom - fitted with interiors from VADO and MERLYN - radiates a clean and refreshing ambiance.
Pops of sage green add warmth to this neutral bathroom interior.
Vibrant emerald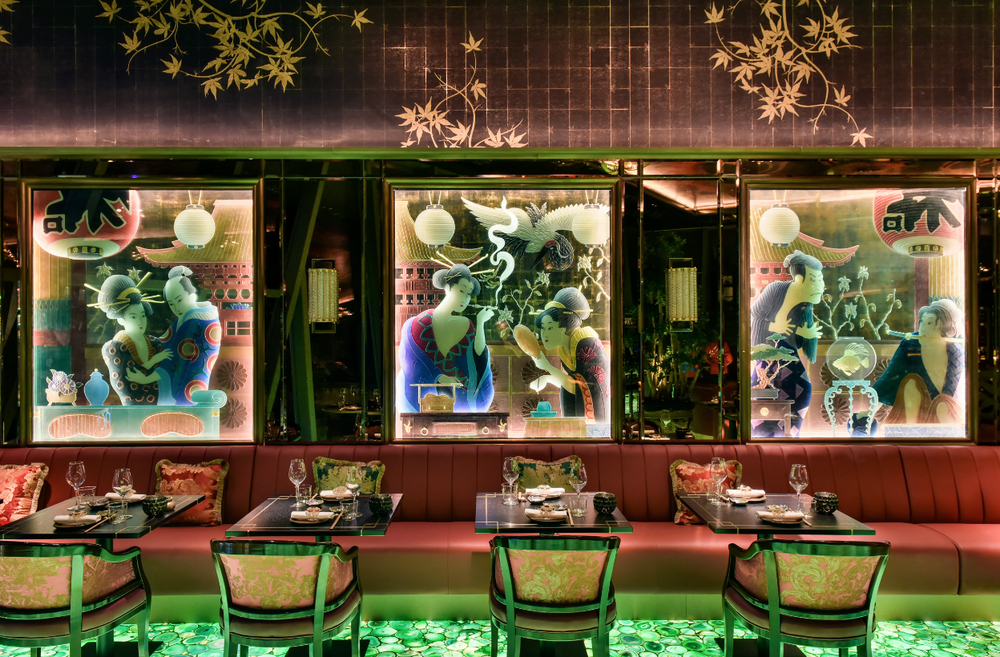 Creating an opulent and immersive dining experience for guests was at the core of the brief for The Ivy's, Asia-inspired eatery. The dining area takes green to new heights with a decadent flooring focal point that features slices of green, semi-precious stone which emit a vivid neon glow. Indoor leafy trees and 12-foot statues of samurai warriors adds to a theme of luxury, providing diners with an extraordinary dining experience.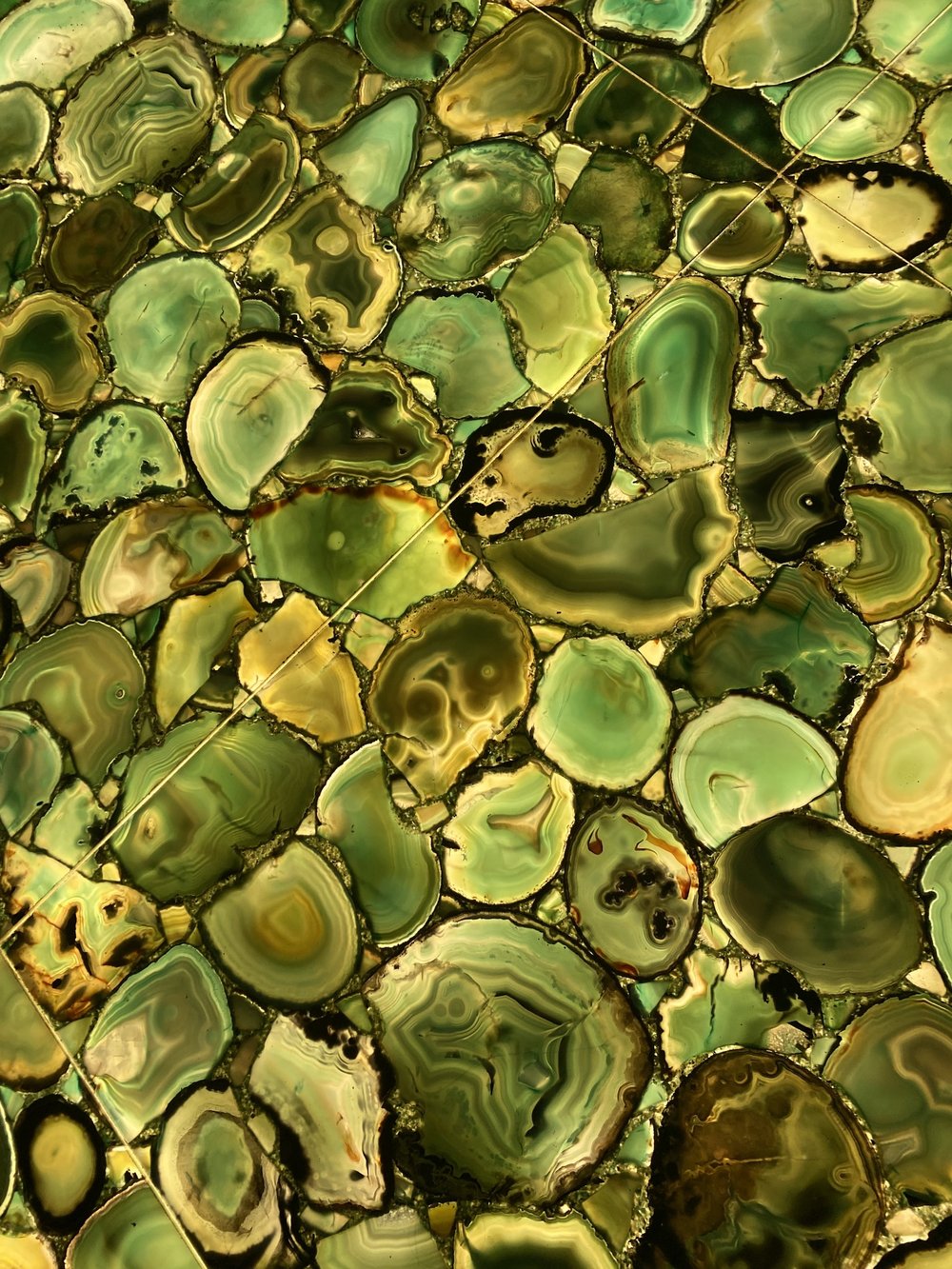 Whether it's through subtle earthy tones, leafy palettes, bold colour combinations, or the injection of luxurious emerald, green has the remarkable ability to imbue spaces with tranquillity, balance, and a deep connection to the natural world. For architects and designers seeking inspiration, exploring the versatile possibilities of green can open a world of creative opportunities, elevating interior spaces into sanctuaries of peace and well-being.
Visit our studio to experience our materials library, you can ignite inspiration by touching and experimenting with a broad range of materials.