As we slowly approach summer, one can be forgiven for still feeling the winter blues. The days might be a little longer but consistent, bright and warm summery days still feel some way off.
Many suffer from the affects of seasonal affective disorder (SAD) with the memory of brighter days and more colourful surroundings offering the only hope during the winter months.
Transforming NOW gallery into a destination for wellbeing, creative polymath Fred Butler has created a joyful environment for visitors to explore chromotherapy and get a well-needed uplifting relief of light and colour.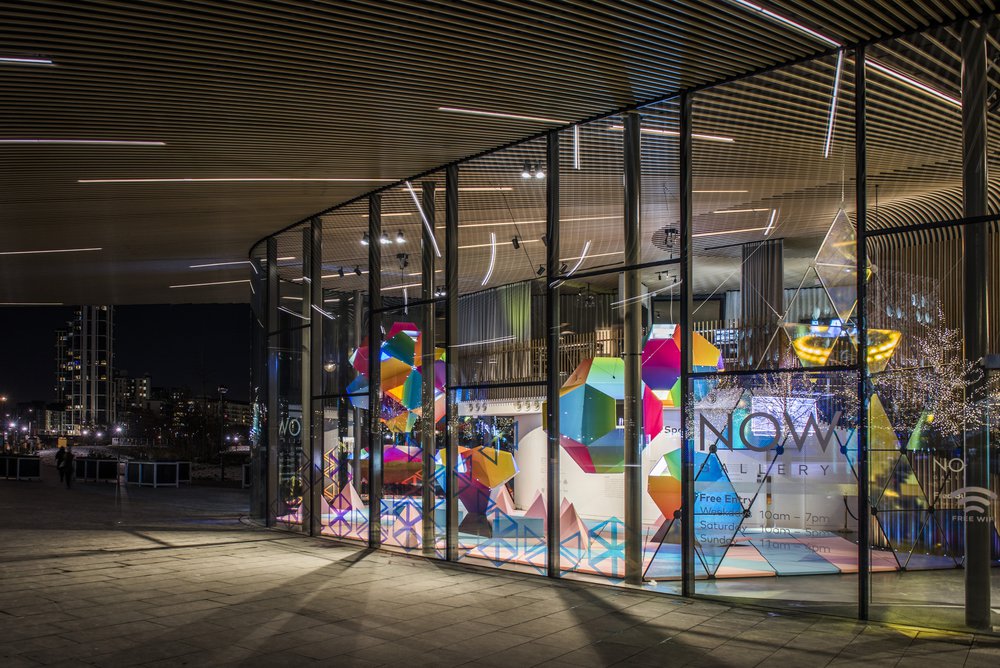 Photo courtesy of Charles Emerson
Harmonics in Space is a culmination of research that Fred has been carrying out surrounding wellness and wellbeing.
Her Healing Spheres; three-dimensional sculptures that invite visitors to submerge their heads inside to experience a range of colourful lights, are designed to create an interplay between the conscious and unconscious levels of the psyche, stimulating the imagination and releasing creativity.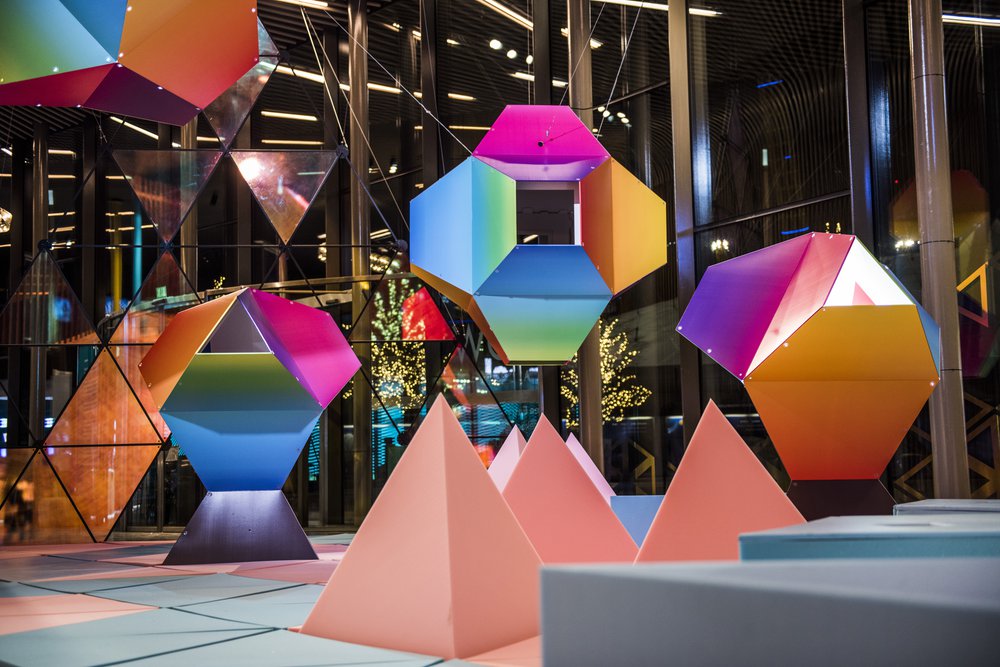 Photo courtesy of Charles Emerson
The title for the exhibition stems from Rudolf Laban's theory of 'Harmonics in Space', which suggested the body is made up of polyhedral shapes – the smallest being a tetrahedron, located in the centre of the body.
Noting that constant deskwork and hunching over electronic devices causes the tetrahedron to become blocked, Fred's orb-like installations encourage the viewer to stand, breathe and take note of the body.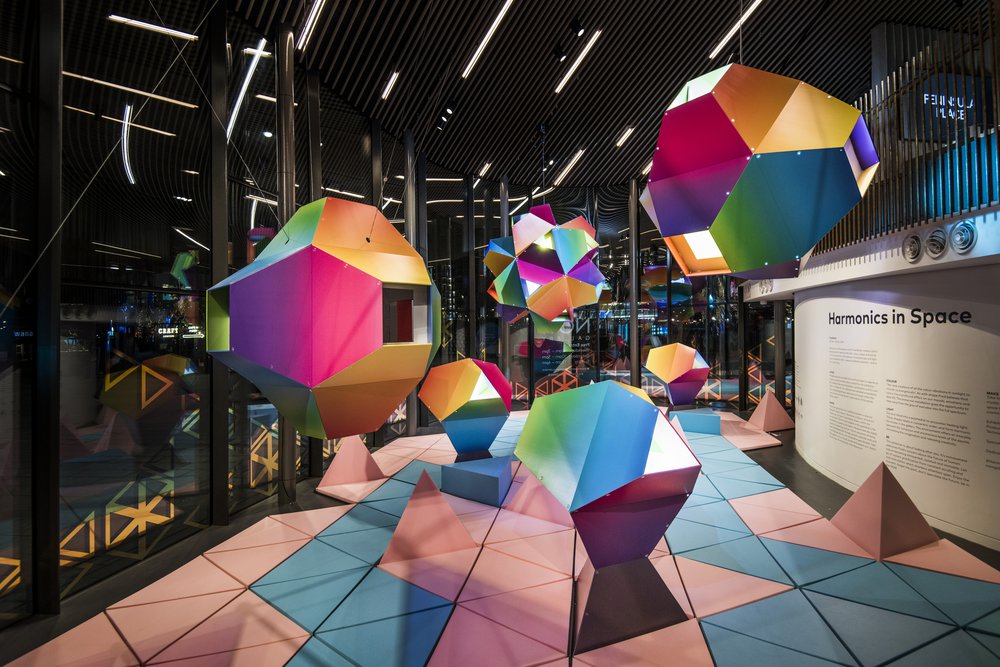 Photo courtesy of Charles Emerson
The sensorial affect of sound is also explored with unique uplifting music played on individual headphones acting as a sonic journey through the exhibition. The sound experienced in this personal system will complete the 360-degree immersive experience.
Visitors are even encouraged to take the time to try their hand at origami and create an exclusive colourful cosmic creature to match their moods. The playful and focused activity offers the opportunity to switch off and to be mindful with a freedom that is often out of reach in our normal day-to-day lives.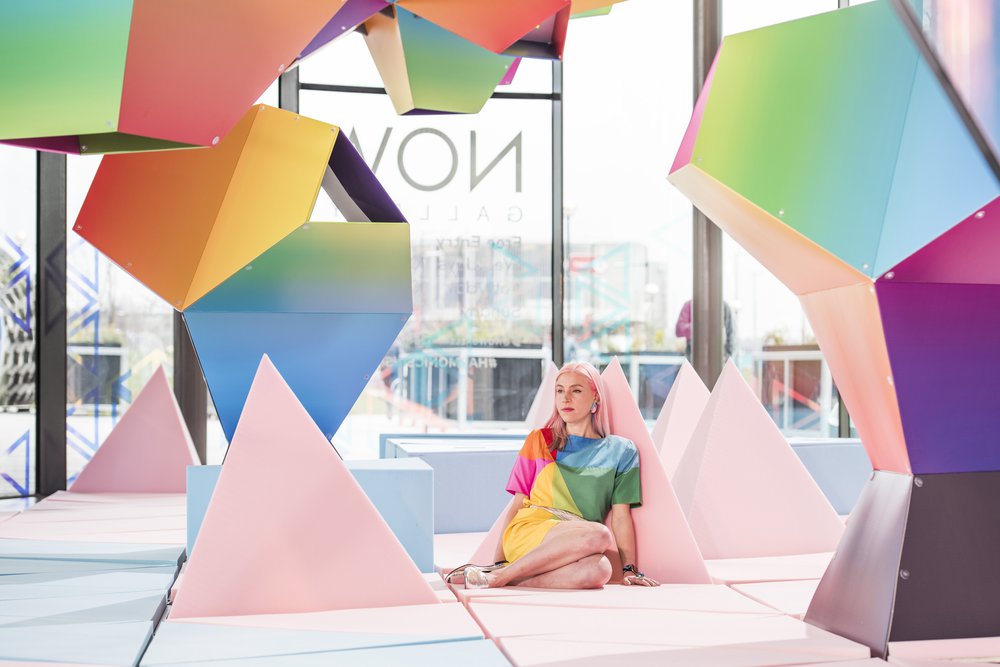 Photo courtesy of Charles Emerson
But it's colour that takes the main spotlight in the exhibition. Immediately arresting and totally joyful, it plays a big part in Fred's work, and for good reason: "We need a balance of all the colour vibrations in sunlight to nourish us energetically," she says.
"Colour is intrinsic to my practice and I want to use that tool to attract, inspire and excite a new audience to NOW Gallery making it a true destination with this playful installation."
Harmonics in Space is available for all to view for free between 28th February – 29th April 2018.