The term 'single-use plastic' hadn't made it to many people's ears, and certainly wasn't on the tip of many people's tongues, until some 12 months or so ago. A wave, perhaps not yet of tidal proportion, but certainly big enough to make its way into the Houses of Parliament, has been growing.
Mainstream media channels have slowly picked up on a movement that has been building as a result of environmentalists, scientists and a fairly small but select group of big name brands, who have been raising awareness of the problems that plastic is causing to the planet, and the delicate ecosystems within.
As consumers become more conscious, pressure is mounting on the Government to curtail the use of single-use plastic and minimise the inevitability of waste.
When my friend, Daniel Webb, asked me if "I'd like to see his plastic," I was a little taken aback. I hadn't been asked such a question before. When he showed me what he meant I was even more surprised.
At that point, around six months ago, he had seven massive sacks full; every piece of plastic he had used since 1st January 2017. By the end of the year, he had almost an entire spare rooms' worth.
And whilst it may seem an usual thing to do, the catalyst was pretty straightforward, "I had grown tired of my local council's inability to recycle plastic and I wanted to see what affect my consumption as an individual might equate to." Having diligently amassed and cleaned every piece of plastic (within reason) he was faced with another question, what to do with it next?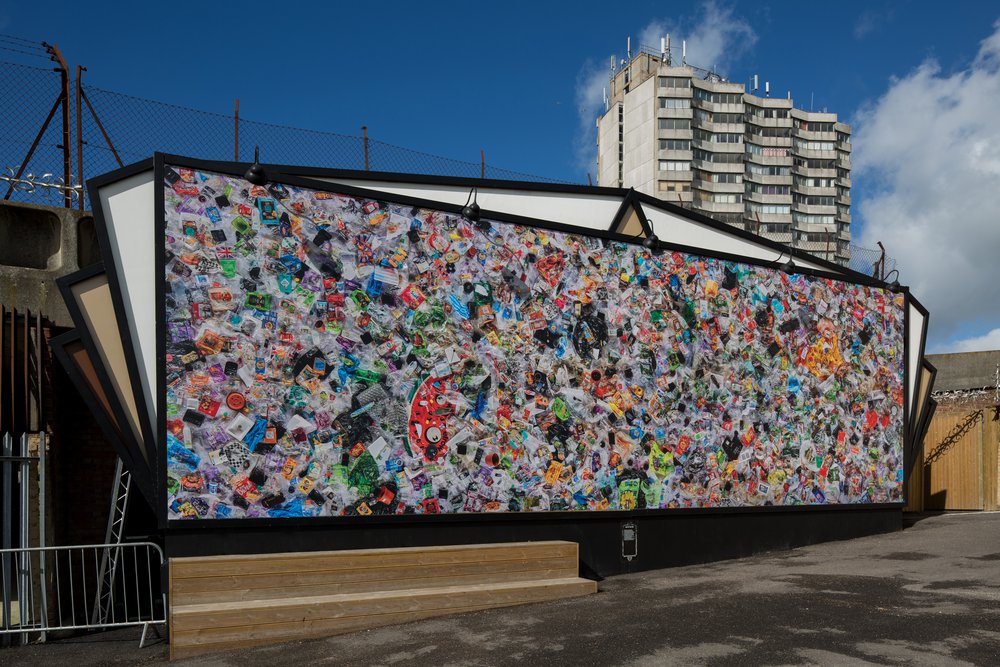 Photo courtesy of Ollie Harrop & Daniel Webb
Today sees the unveiling of an artwork produced from the plastic titled Everyday Plastic, on a massive billboard located in Dreamland amusement park in Dan's hometown, Margate. The image itself, commissioned as the second instalment of the Mural-by-the-sea project, is an amazing technical feat in itself.
Spanning 13 metres and looming overhead at four metres tall, it is a depiction of the plastic in a sharply focused one-to-one scale. The concept for the mural was a clear one for Dan; "I wanted to show the sheer volume of plastic that one person consumes, without ever realising it, in a single year." As a self-confessed "marketing consultant turned artist" he sought the assistance of professional photographer Ollie Harrop and a small team to figure out just how to execute it.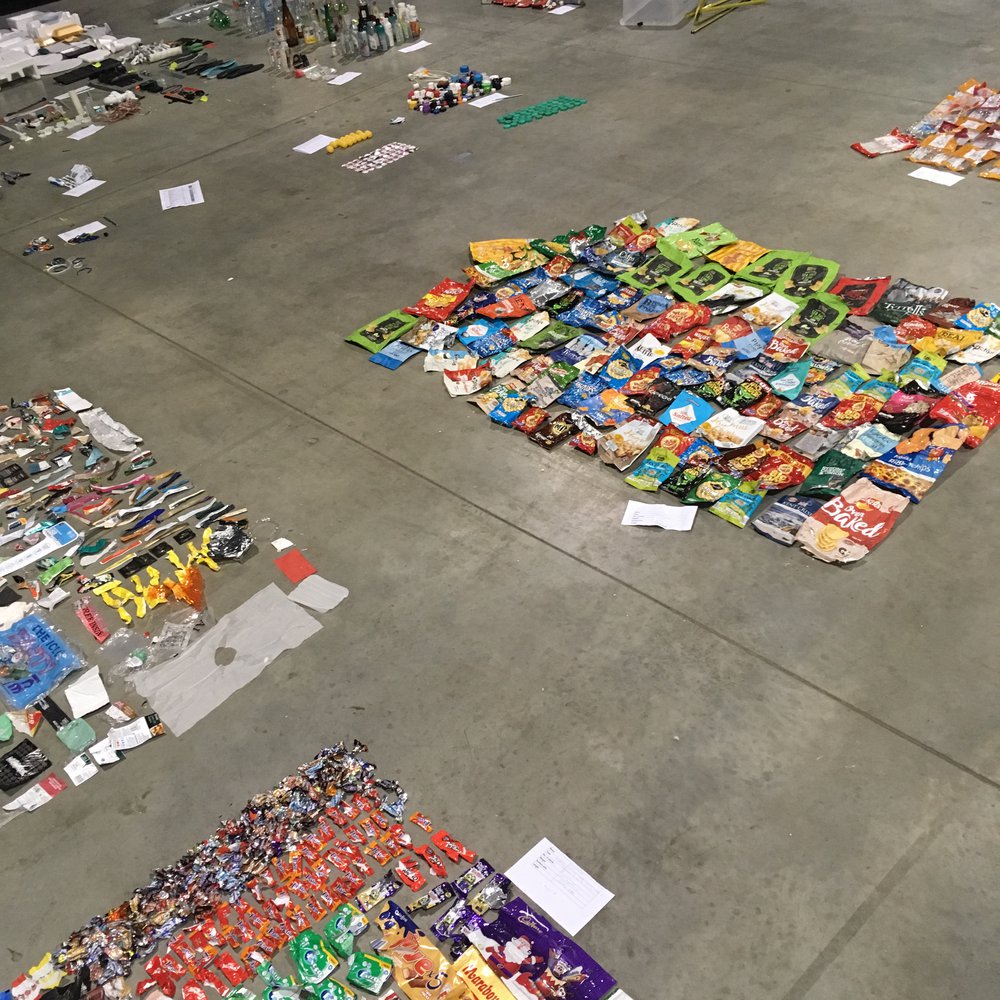 Sorting through the plastic before shooting
Joining them over the first weekend of March, I got to see first hand just how much plastic one person uses, as well as getting a master class in how to shoot such an unusual and enormous flat-lay image. Yet, whilst the making of the image itself; the intricacies of measuring out the scale of the of the billboard on the floor, setting up of the moveable scaffold rig and lighting, and laying out of the plastic was a fascinating process to be a part of, it's the detail of what the composition includes that makes the mind truly boggle.
The collection is made up of numerous repetitions, be they milk bottle lids, crisp packets or bread bags. And in sorting through the plastic, Dan and his research team have found some uniquely insightful, but deeply troubling information.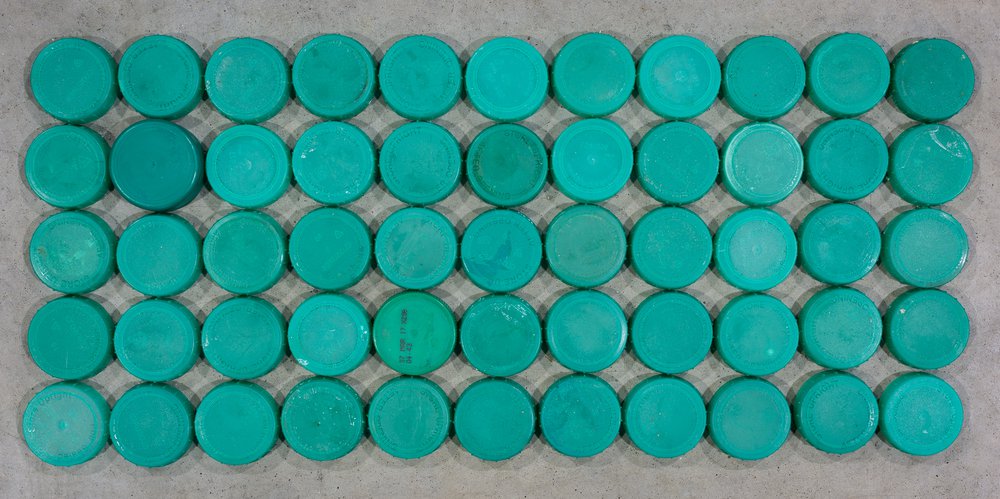 Photo courtesy of Ollie Harrop & Daniel Webb
Of the 4,490 items of plastic, a mere 161 pieces would ordinarily be recycled in the UK, which equates to a lowly 4%. In terms of what the plastic was actually used for, 93% of the collection is packaging*, with 60% of the total being food packaging, making us all inadvertently culpable for plastic waste as a result of our necessity to consume food.
However, what's perhaps the most troubling of the findings relates to the amount of plastic derived from recycled materials (RPET.) Like me, you might expect the figure to represent a healthy percentage of the overall plastic we come into contact with. Sadly, RPET represents a meagre 1.3% of Dan's items, with the number of items made from so-called biodegradable materials (PLA) totalling a shocking 8 out 4,490.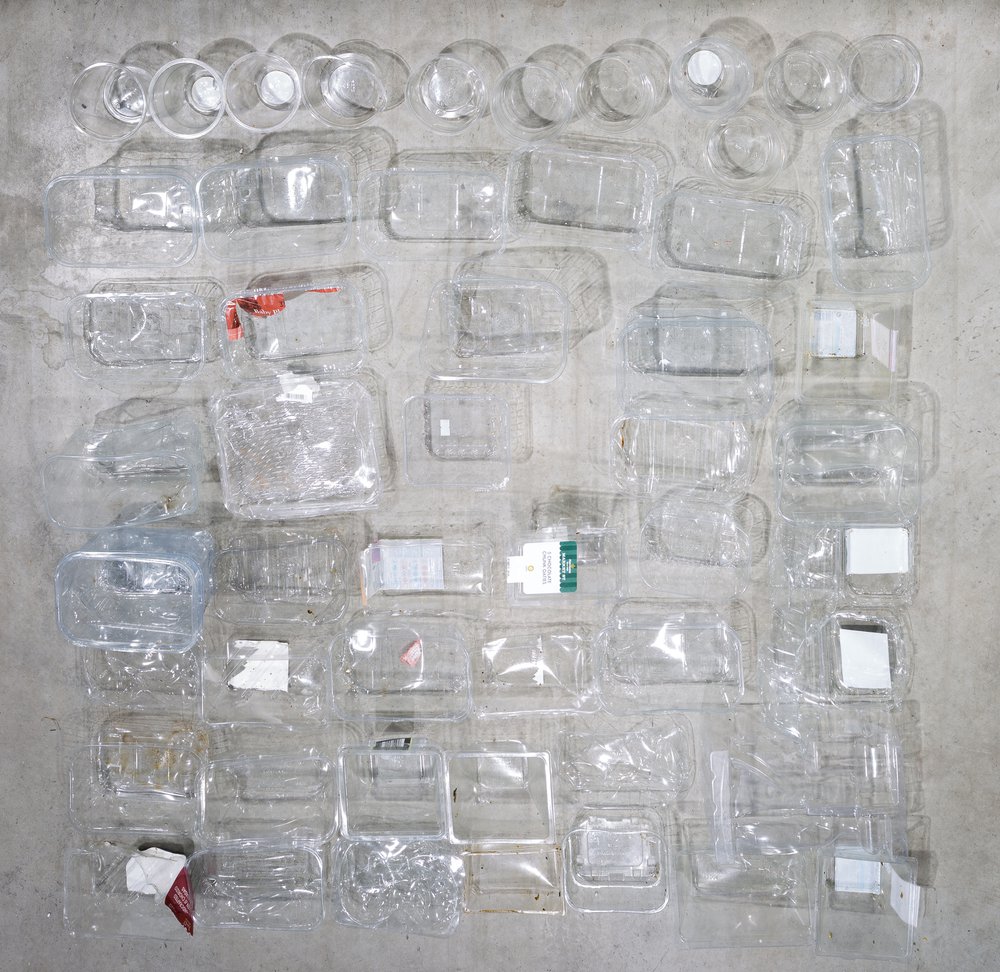 RPET plastic from the collection. Photo courtesy of Ollie Harrop & Daniel Webb
Everyday Plastic is a thing of grotesque beauty. The skill and craft involved in making it is undeniable and the insight into our daily consumption habits is palpable. But it underlines a major issue of the 21st Century that legislators and manufacturers need to address – too much needless and damaging plastic is being produced.
Everyday Plastic will be on display at Dreamland, Margate, until 21 May 2018.
Entry to Dreamland starts from £5.
You'll also be able to see more of Everyday Plastic as part of the next Design Insider Live Materials: The Making of Plastic documentary in June
*(By volume rather than weight)