One of the primary stops on offer during Dutch Design Week is undoubtedly the Design Academy Eindhoven. A trans-disciplinary masters programme makes it one of Europe, if not the world's, leading design institutions, and this year didn't disappoint with a rich mix of outcomes from its multi-national cohort of students. Here are some of our top material-focused picks from the show.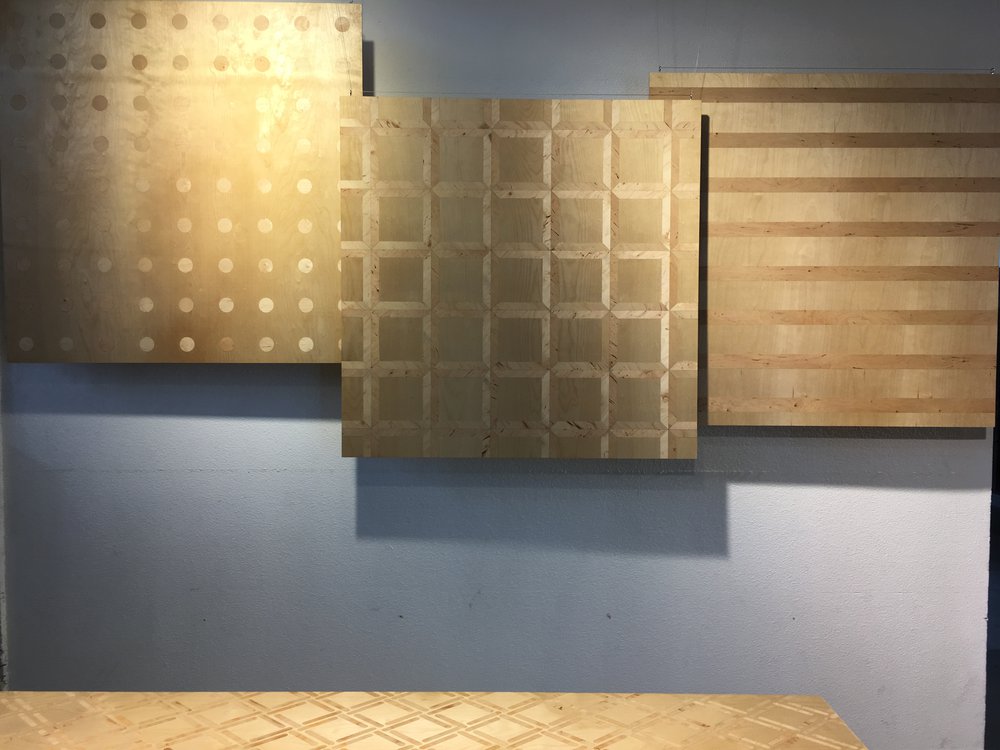 Marquetry Production - Dita Pane
Marquetry Production – Dita Pāne
These plywood panels were a bit of a showstopper! In the process of seeking to revive the ancient process of marquetry using modern laser and CNC technology, Pāne has created something distinctly beautiful yet far more affordable than a traditional example of marquetry. Expensive ornamental materials normally used in the process such as tortoise shell and wood veneer become a thing of the past as Pāne replaces them with locally-sourced birch plywood – a material that has become ubiquitous, and with it coveted, in the world of interior design.
Spunky Webs - Fenna Van Der Klei
Spunky Webs – Fenna van der Klei
Whilst primarily aimed at the fashion industry, the peculiarly titled Spunky Web garments are made from an interesting interpretation of materials and combine delicate yarns and sturdier plastic elements. The open weave of the netted constructed fabrics creates both a lightness and shape accentuation that one might expect to see on a catwalk. But what's unusual with this range of clothing is that it is designed for men, specifically 'men who are open to expressing their delicate side.'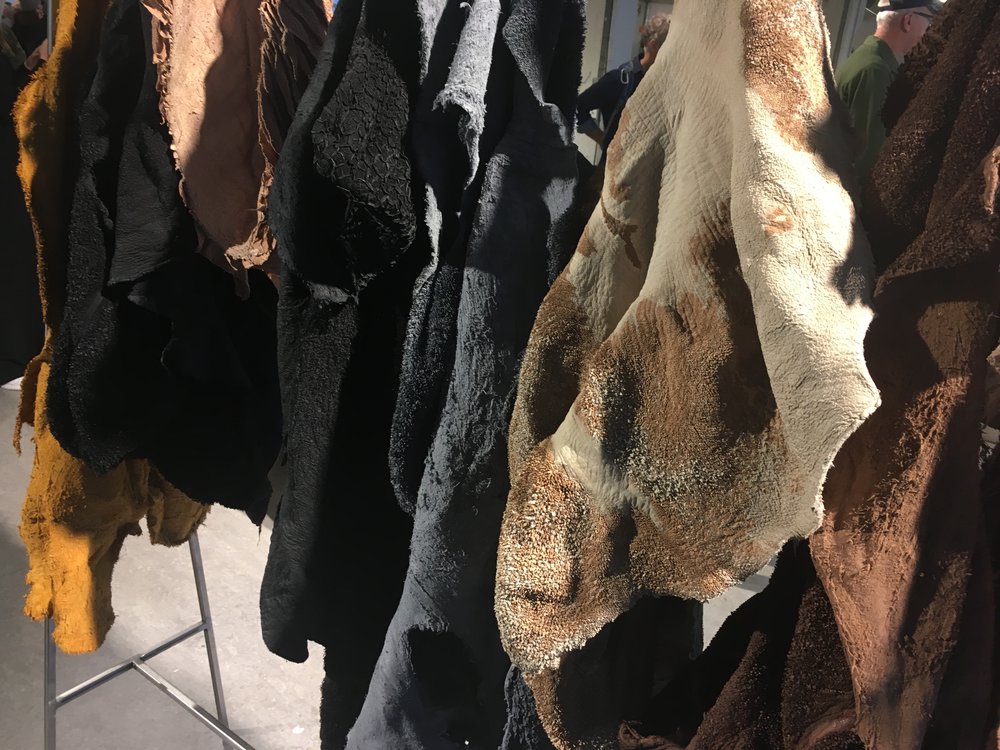 Ventri - Billie Van Katwijk
Ventri – Billie van Katwijk
The questioning of food production, probing how ethical and sustainable our current practices are, was a hot topic at this year's show. Billie Van Katwijk noted how wasteful the beef industry is in generally only using cow stomachs in the production of dog food. With four available, and with each having its own unique properties and textures; she decided that they had too much potential to overlook. Going through a laborious and no doubt unpleasant tanning process, she has discovered a way to transform the stomachs into distinctive and useable leather, which she had turned into luxurious handbags.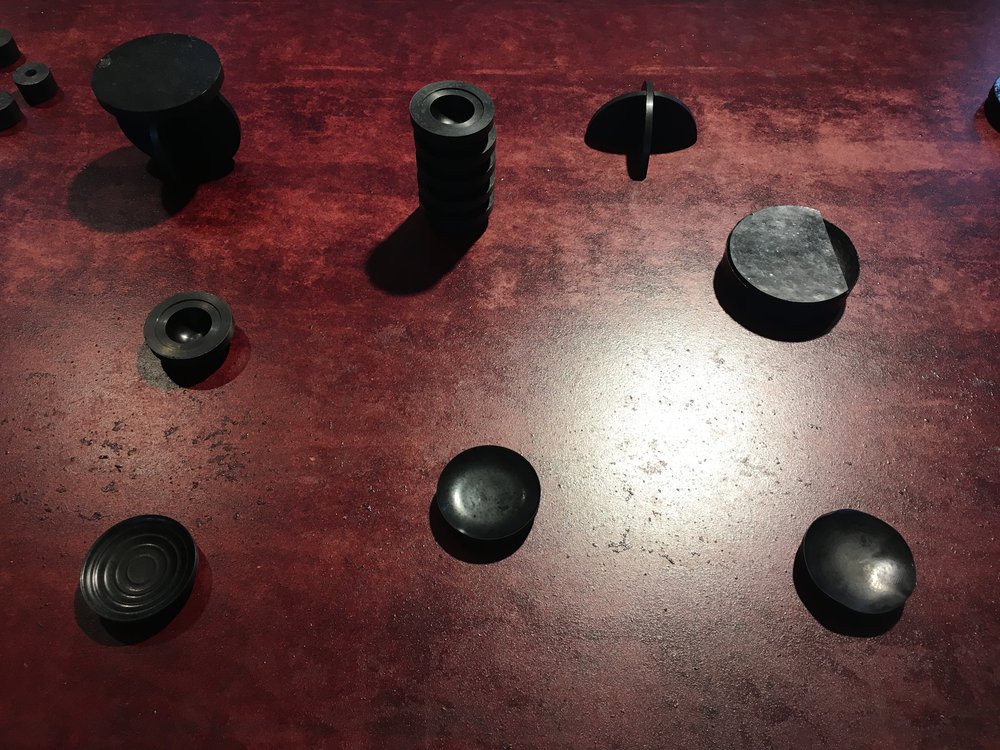 Blood Related - Basse Stittgen
Blood Related – Basse Stittgen
Another project that turned its focus upon the slaughterhouse, questioning how effectively all the elements that are created are handled, was Blood Related. As the title suggests, Basse Stittgen's project seeks to raise a pertinent question regarding one of the most voluminous waste outcomes of the meat industry, blood. The literal life source is discarded once all other useful elements of cattle are processed, and so Stittgen decided to turn it into a valuable biomaterial instead. Once dried it can be heat-pressed into different forms, including everyday objects such as eggcups, jewellery and even a record. Will we ever experience such objects without any negative associations? Time will tell.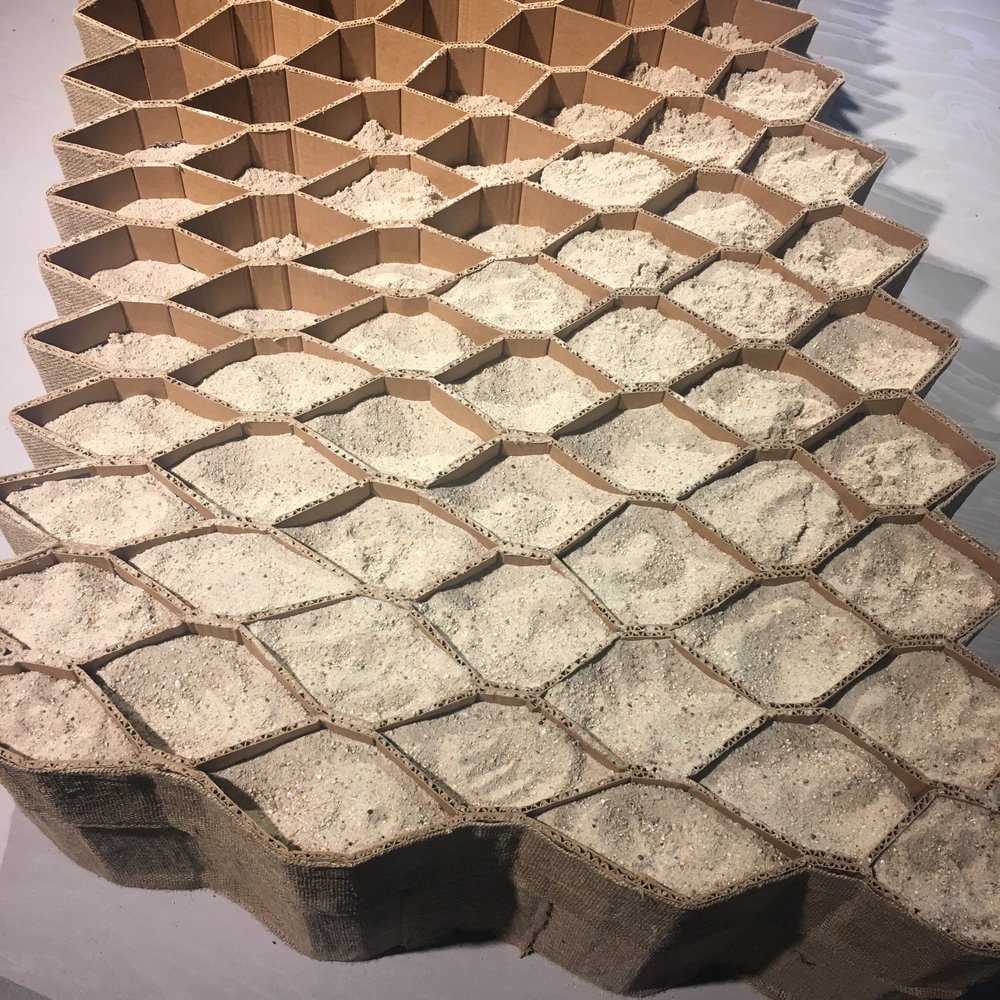 Desert Pioneer - Whom Bindels
Desert Pioneer – Thom Bindels
Thom Bindels wanted to respond to a troubling reality – that whilst designed to be for a short-term stay, most refugees remain on camps for up to 17 years. Desert Pioneer seeks to offer a genuine opportunity to help rebuild their lives, creating life itself in the process. His foldable honeycomb cardboard structures are designed to be filled with desert soil. They then function as an erosion barrier and water infiltration system. But there is also a hidden element to the barriers - sandwiched within the cardboard structure are seeds. When water enters the structure plants emerge and eventually the cardboard dissolves, leaving a selection of pioneer plants within the desert landscape.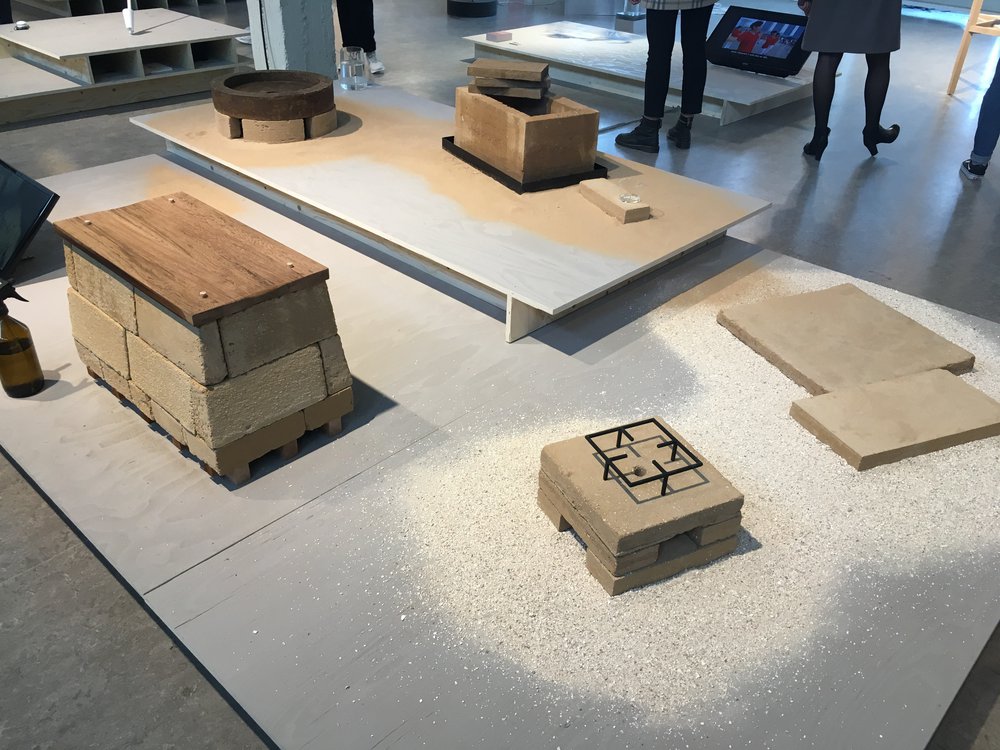 Earth Kitchen - Yuiko Shigeta
Earth Kitchen – Yuiko Shigeta
Another project that questions food consumption as well as engaging with earth as a primary material, Earth Kitchen offers an alternative for preserving, cooking and eating food. Shigeta goes back to basics, reconnecting with ancient processes and the earth itself whilst alleviating the need for damaging refrigeration in the process.