Having graduated from the Royal College of Art, refining his skills in the traditional process of silk-screen printing, designer Daniel Heath set up his own independent studio in 2007. He began by specialising in creating bespoke hand-printed wallpapers of his own drop-repeat designs and in 2010 added exclusively made-to-order crafted surfaces to his portfolio.
Now a Brother of the Artworkers' Guild and a mentor for the Crafts Council's Hot House scheme, Daniel has established himself as a leading designer-maker who spans hand-drawn, hand-made and technology driven processes. His contemporary drawing style is distinctive, with carefully and imaginatively created narrative rich illustrations, often forming the core of his surface designs; whether applied through hand-printing or laser etch. 
He has also long upheld principles of craftsmanship and sustainable design through up-cycling and re-appropriation of authentic heritage materials.
Indeed, the process of creating his bespoke surfaces often involves repurposing salvaged materials and as part of our Reuse / Relife season, we recently visited Dan at his studio to find out more about this part of his practice.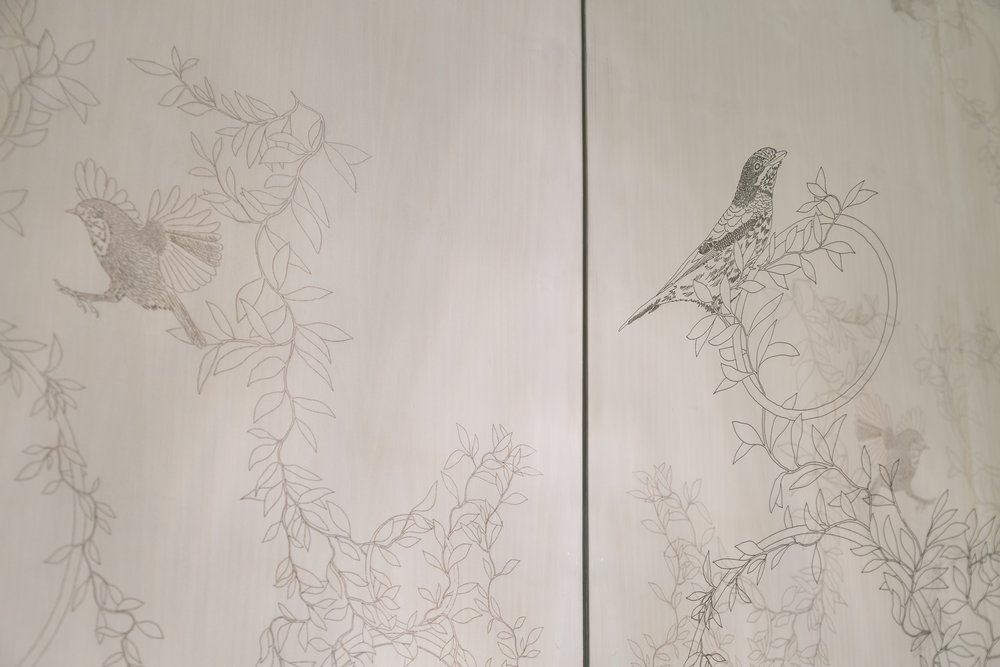 When did you start using recycled/reclaimed materials?
"The first time I used reclaimed materials was back in 2010 when I began working with Architectural Salvage specialist Retrouvius on a series of bespoke interior design projects.
"They asked me to work with several reclaimed materials including Iroko school table tops, Oak draw bases from the Natural History Museum, and Granite flooring slabs from Heathrow Terminal 5. The challenge was set by them to decorate and extend the life of these materials with my surface pattern/ print designs so that they could be installed again and given a second lease of life."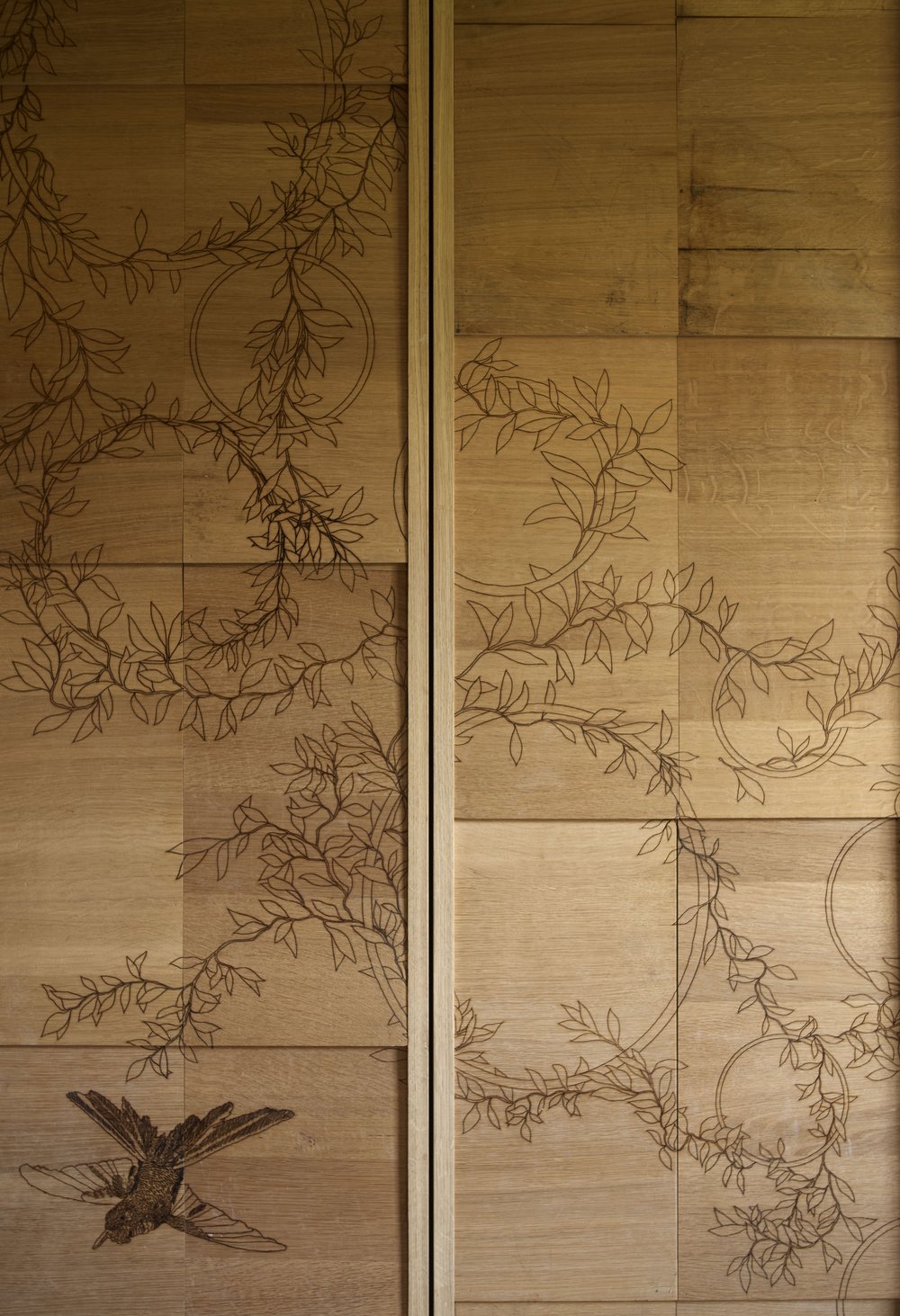 So is it your primary aim to use reclaimed materials?
"As a studio we believe in working with materials to make our interior surfaces furniture, and textiles, which have a sense of permanence and history already woven in. All our surface materials are either salvaged or responsibly sourced from other British manufacturers as we feel they embody a high quality and value we are passionate about maintaining.
"When I change the use of something, like with our Perivale tile collection, I use the term reappropriated as I aim to celebrate the inherent time-worn patina of the salvaged material, in this case, Slate.
"That can't always be the case, but if it's not we always look to use locally sourced British materials to make our products, such as our natural woven Linen from Lancashire that forms our textiles collection for example."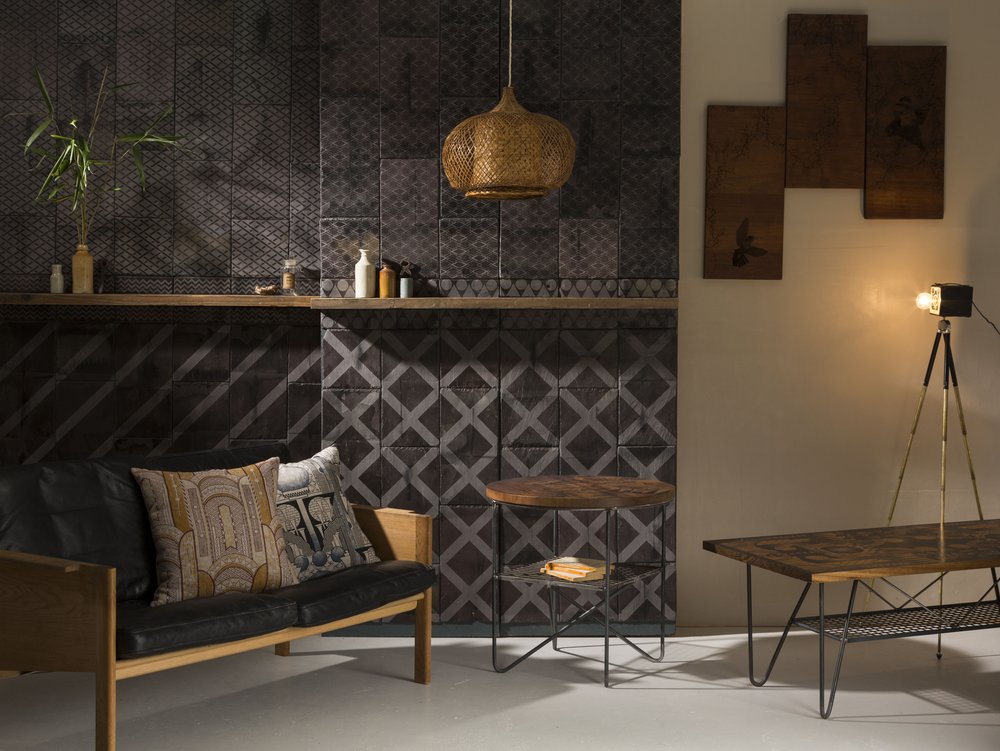 What is involved in the process of making your surface materials? Can you give us an example?
"The first stage of my process, and one of the most important stages, involves sourcing and sorting, no matter what the material. With the Perivale Collection, I need to find a consistent quality of slate and sort through it, weeding out pieces that are unusable, or pieces that are likely to break at a later process point. Around 30/40% of the slate I have salvaged from rooftops is unusable.
"Once I have sorted through to find the good pieces, I clean them, removing the lichen and dirt. Following cleaning, each tile is cut to size by hand. I make each set of tiles to order, so we regularly work from elevations and around plug sockets, cutting each piece of slate to fit.
"The slate is coated in a natural penetrative wax oil, toughening the slate and halting the aging and flaking of the surface, making it stable for the engraving to happen."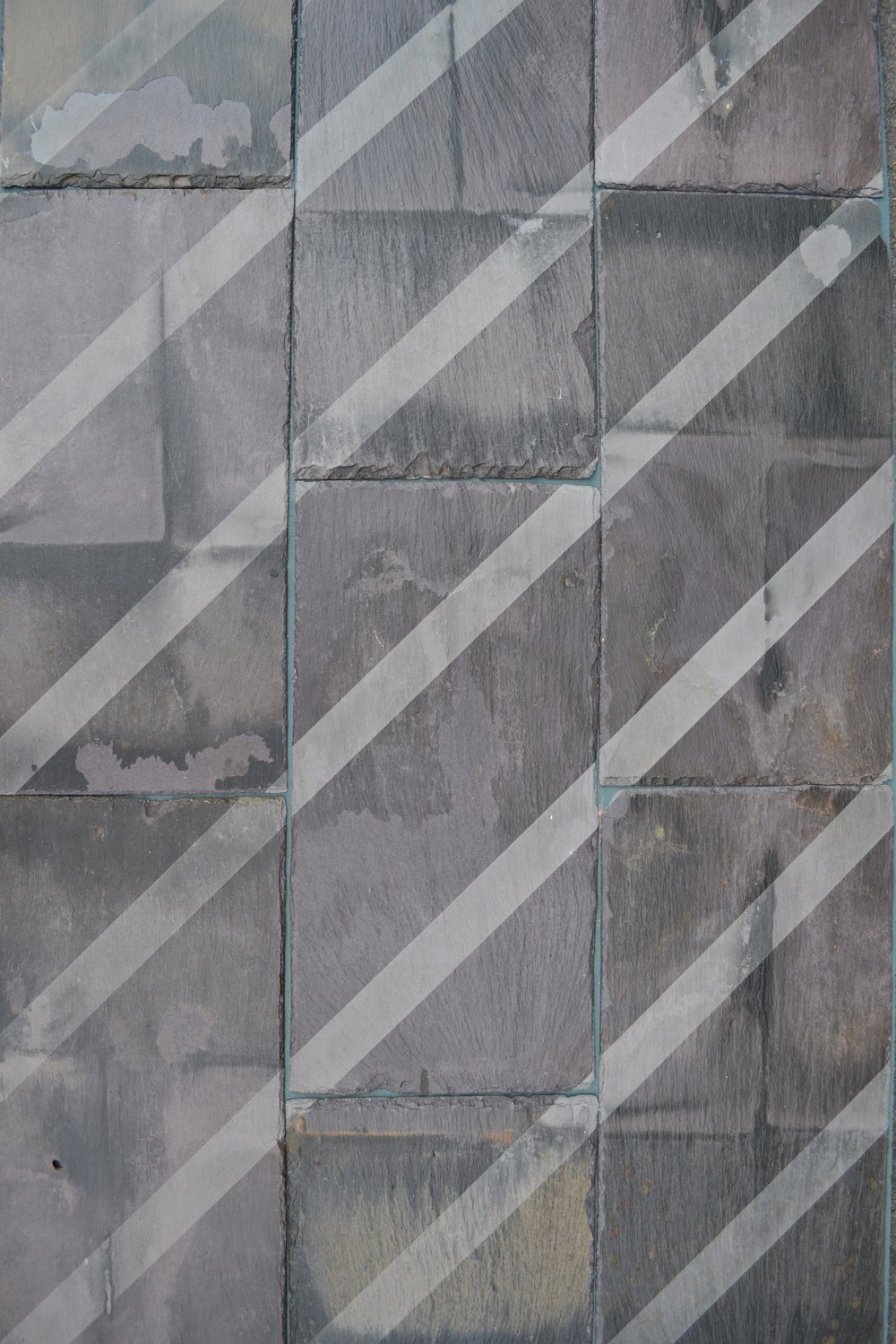 How do you obtain these materials? Has this changed over time - have there been stumbling blocks or difficulties in this process?
"Roof slates are plentiful and are often replaced with synthetic slate, so if I'm lucky I will see someone having their roof worked on in my area and can purchase a few hundred slates at a time. For larger commissions, I search reclamation yards. One element that is sometimes changeable is colour, as slate varies a lot, ranging from blue to green to purple or almost black, so I try to find consistent quantities."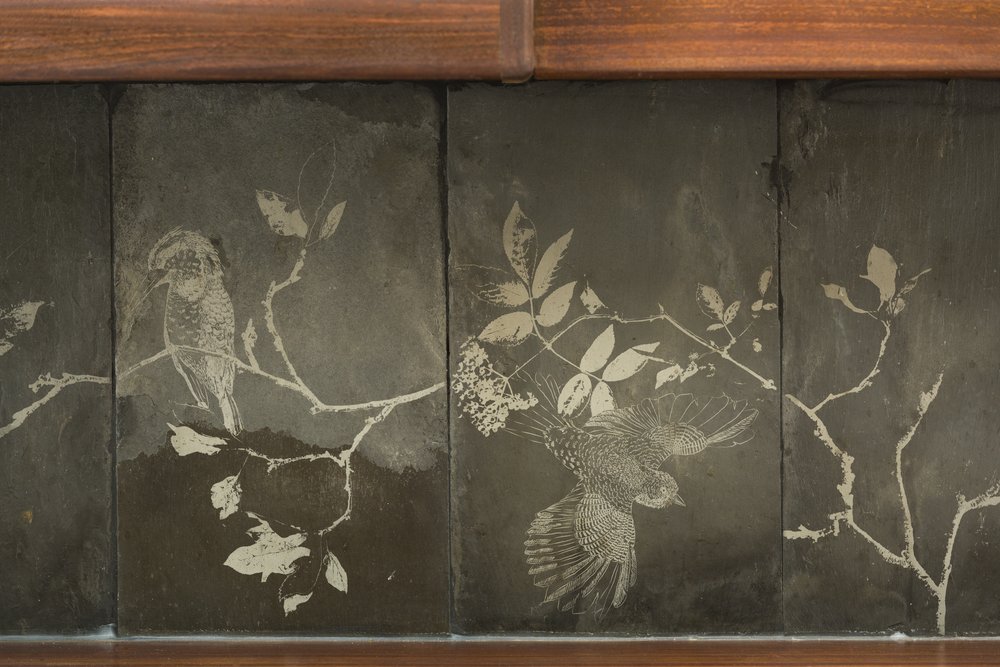 Do you find using pre-made materials restrictive though – size must be something that you have to be aware of?
"For the Perivale Slate, tile size is generally restricted to the size that I get the roof tiles, often around 300mm x 420mm maximum. However as it's a tile collection it modulates, and with that it's also available in two formats, a standard wall tile and boarder tile and can cover much larger surface areas.

"The etched and decorated wood-based and mirror surfaces can be custom engineered to fit around fixtures, fittings and doorways, as well as being supplied in standard panels sizes depending on if they are salvaged or responsibility sourced. Basically anything is possible."
Have you ever had to make alterations in how you produce your surface materials because of the fact they're made from reclaimed materials?
"Not really, but we are adaptable and selective in how we source materials. For larger commissions or light commercial use, we have adapted the materials we use in order to maintain quality but also still keeping to our ethos.
"We introduced the use of etched and printed Ash, Mirror and Iroko panels that are not salvaged but are responsibly sourced from British manufacturers. The introduction of these materials has opened up many more possibilities with bespoke finishes and has lead to much more complex and rewarding dual surface work such as the recently completed a bespoke bathroom project in Hampstead Heath."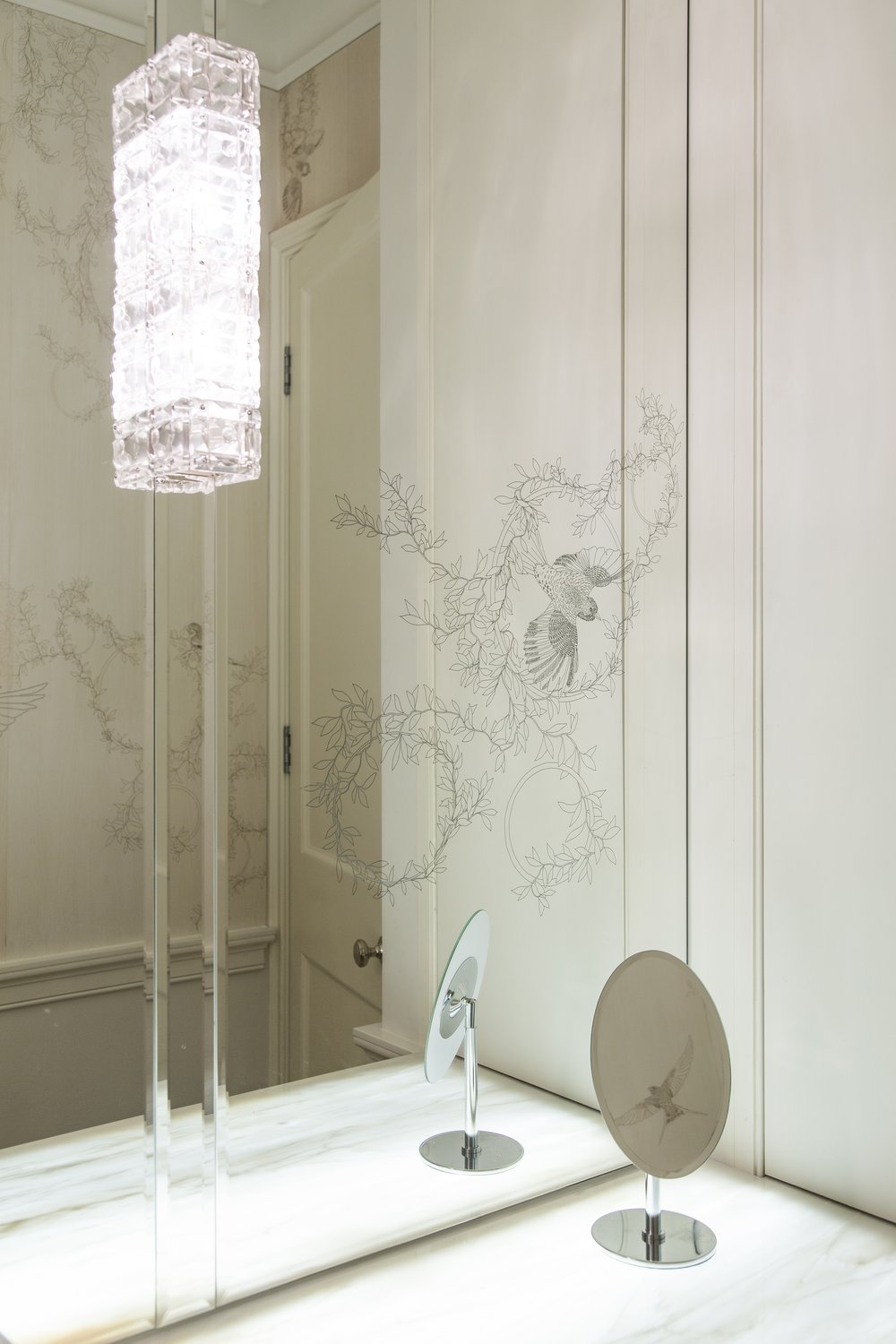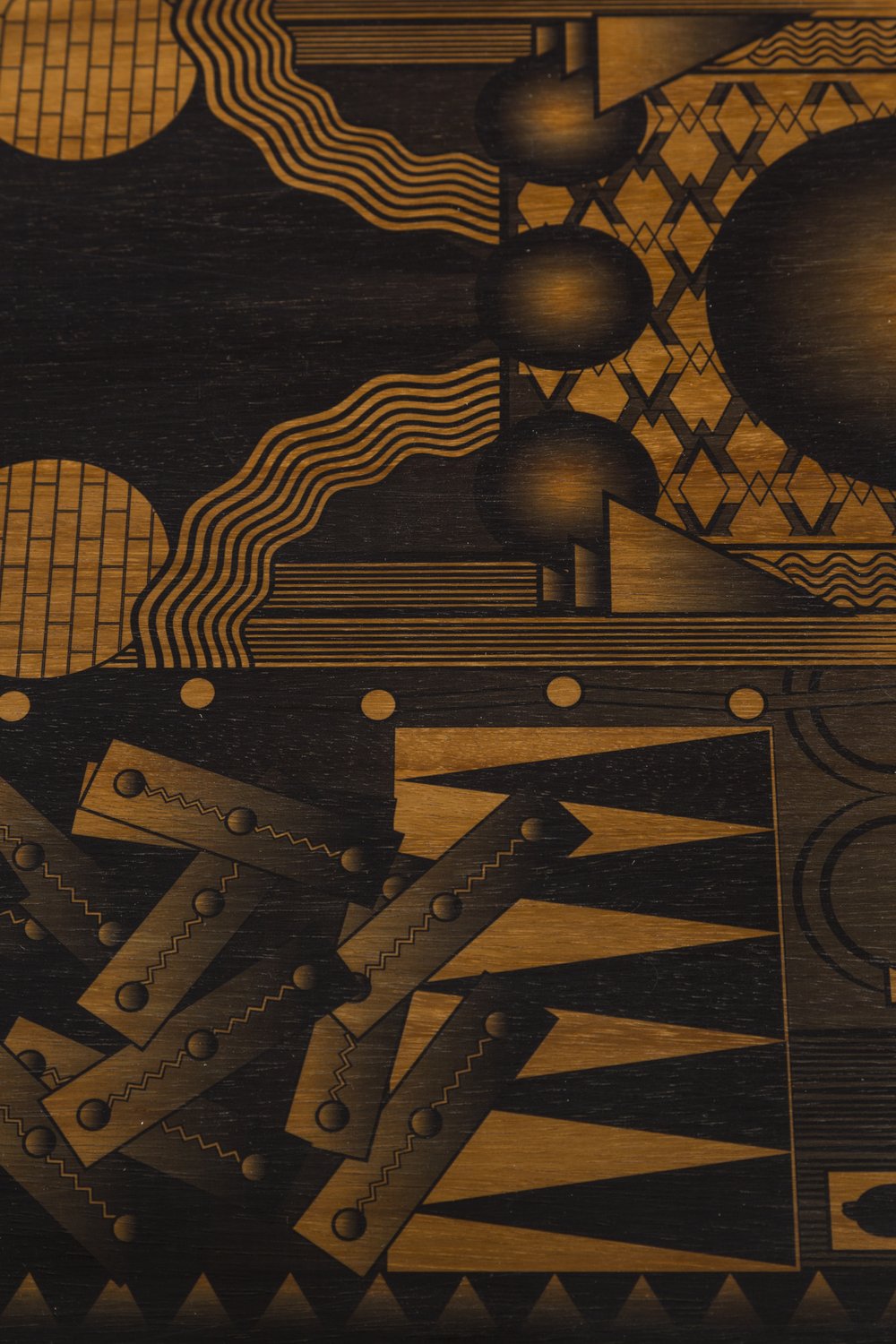 Have you ever found clients seek you out to use your materials because the fact that they offer a reclaimed material?
"I find that my materials often get used because they are different to the usual offering in terms of aesthetic. Our clients like the story behind the materials, but the recycling element is not often the first thing to attract our clients. It is more important for some than others."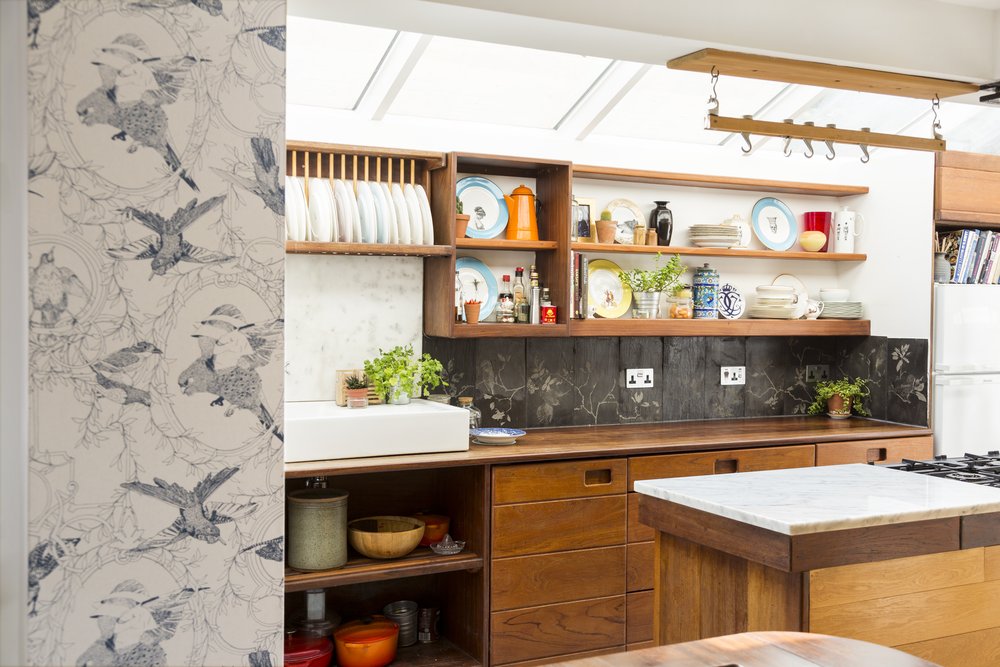 Is there a common context in which your materials get used? Regular clients? If so, what kind? And if so why do you think they buy your materials – is the materials narrative / use of materials important to them?
"I often work with interior designers who have a certain style that fits with mine, meaning that I have produced a portfolio of work that has evolved alongside their offerings. I regularly work with Retrouvius, who specialize in architectural salvage and putting great materials back into people's homes. We are a very harmonious pairing and it is always a joy to have my work incorporated into their projects.
"It is also nice to meet new clients who take your work and place it into a context that is not familiar. I recently used our Perivale tiles in a client's very modern apartment and it worked very well, providing a bit of texture in a very clean and modern looking space."