As part of a new series of interviews with the people that specify materials on interior projects, we caught up with Field Day – a design studio founded in 2013 by Jessica Gibbons and Kat Turner, which offers a uniquely personal, concept-driven service for its clients.
The creative duo offer a full interior design service, from concept to fabrication and installation. Their work celebrates natural materials and love to breathe new life into vintage pieces, a practice that fits nicely in our Re-use / Re-life season.
After meeting at KLC in Chelsea, Field Day's first project was to renovate the 31st floor of London's Centrepoint building to re-launch as a nightclub. In 2012 'Zinc' was opened and commissions began to roll in from there. Jessica and Kat tell us more…
Do you specialise in any particular kind of project or context?
"Our real interest is in creating interiors with meaning and story, which takes us to restaurants, offices and homes. Recently, we've found ourselves more drawn to the residential market as it give us the opportunity to create something really personal and individual.
"However, we also enjoy the challenge of mining a brand for inspiration and thinking about design in a completely different way. We find that we seek out something different each time we take on a new commission so I guess you could say the only constant in our work so far seems to be change!"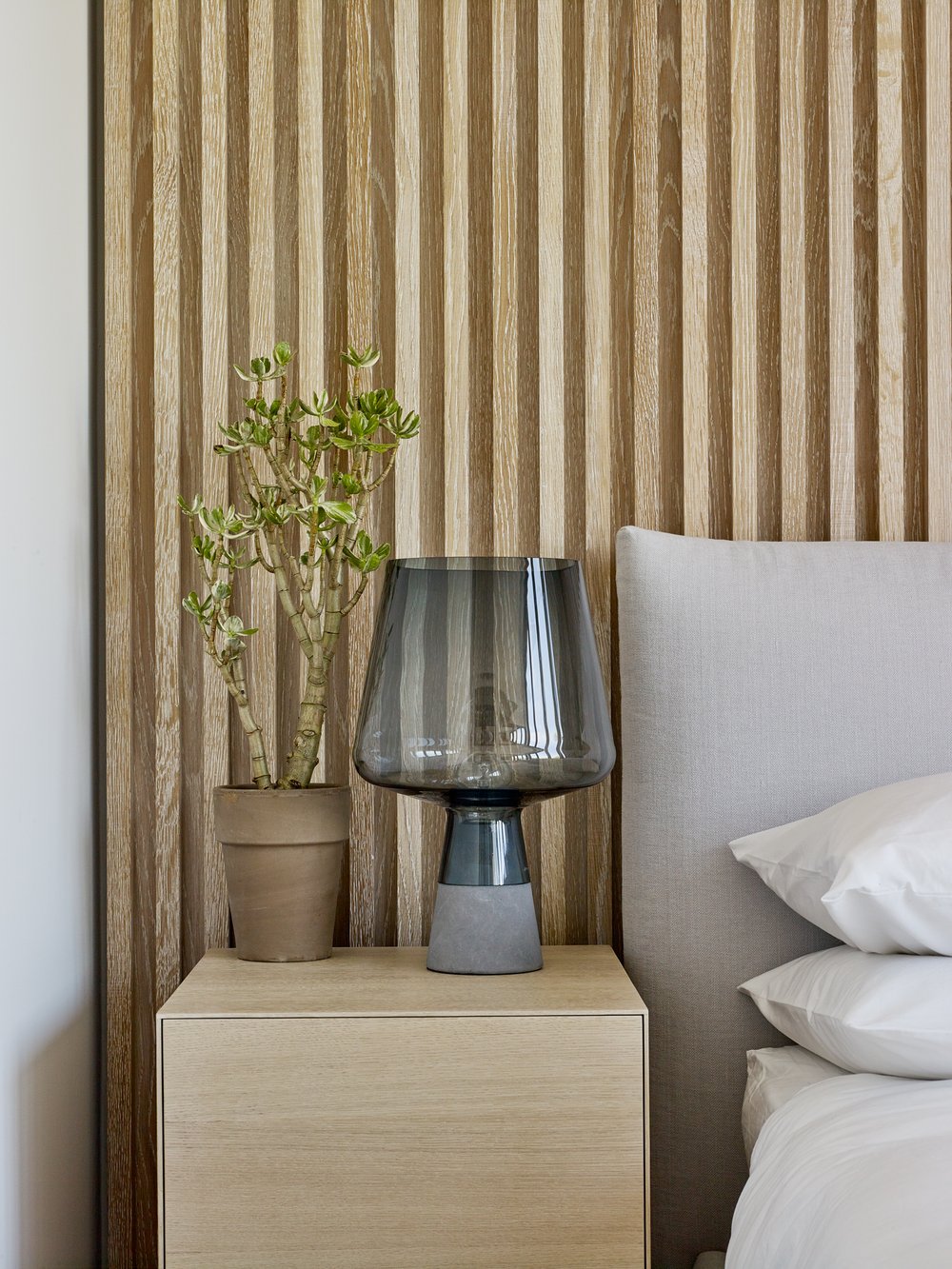 Blackfriars Penthouse
Have you always specialised or have you had a varied set of projects up to this point?
"Our portfolio is pretty diverse. We don't have a 'house style', rather a 'Field Day filter' through which we respond to the client and make it a true reflection of their personality. We like to get to the bottom of what makes them tick and therefore what makes them happy in an interior. So our portfolio is as diverse as our clients."
What project/s are you currently working on / have just completed?
"We've just completed the renovation of a detached house in South Devon. It's a project that's inspired by its stunning natural surroundings and we've been really lucky to collaborate with some super talented local craftsmen working with local materials. A real highlight was visiting the workshops of Hilary Burns and John Churchill, who we commissioned to create different aspects of our kitchen design. We worked with Hilary to create woven panels from local reeds in various tones that would be inset into our kitchen doors, and John forged us some beautiful, tactile handles. "
Do you have anything coming up that you're excited about?
"We're about to embark on the renovation of a thatched grade II listed building for a client who loves radical ideas and contemporary interiors. We love creating tension and juxtaposition in our design, so this is perfect for us!"
Clients
Do you work with a particular kind of client?
"We've found that our clients are very creatively minded and/or work in creative industries. It's a great position to be in as they have a real appreciation for our more in depth creative process and value the results all the more."
Are there certain traits that you look out for?
"We've worked with all sorts of great people from creative backgrounds. We look out for clients who have a good eye, are interested by design and that we have a great chemistry with."
How do they find you? How does the process generally begin?
"We've worked quite a bit through recommendation, and we also belong to an agency that sends us projects which might be a good fit."
What sort of relationship do you have with the client? How much do they inform your choices?
"Our clients are key to our process, so their input is really important to us. Understanding who they are and how they live in their space is our main directive, we take that from discussions about design ideas and also from what we know of them, and what makes them happy."
The Materials
Are there particular materials that you like to specify/work with? If so, why?
"We love to find materials that respond directly with our concept. The shuttered concrete panelling we used for our Scandi-Brutalist penthouse was a real find. Perfect for reflecting the predominant use of that material in Brutalist architecture but with the added interest of the shuttered wood imprint used in the National Theatre, just round the corner from our project. 
"We love working with metals, they feature in all our projects, in fact all our rooms. They're a necessity and we're always interested to see where our next project will take us.
"We're pretty happy about the move away from white walls as we love to use chalky, cleverly-pigmented paints. In a recent project we used a breathable lime wash paint to introduce texture alongside an interesting hue, and loved the results."
How do you source materials?
"We like a deep Google when it comes to research, but we're also keen to take advice from the makers we work with about what materials they might have experience with, or are interested in. (Particularly when we work with our cabinet maker Shaw Stephens, they're a hive of ideas when it comes to what materials could have the best impact)."
Do you have any favourite materials / new material discoveries / materials that you'd like to get onto a scheme but haven't managed to yet?
"We're big fans of terrazzo, but haven't had the project to fit as yet. We love the level of pattern and texture it introduces to a scheme and the scope it has for really exciting applications."
Do you ever have to change materials on specification because of client preference? How often? What's the process?
"Occasionally we'll find that the feel of a material doesn't suit the client – some people have strong feelings about scratchy wools, or velvets. We recently swapped out an encaustic tile for a glazed one, as the client's preference was for a smoother surface."
Do you ever specify materials with recycled content? Is this important to you?
"We're certainly conscious of the impact of our purchases. In general, we appreciate timeless interiors, created with quality products and talented contractors; we're careful not to introduce anything that might date and be thrown away in the near future.
"Our latest projects have called for natural materials but we snuck in a lovely throw made of 100% recycled bottles, it's got a lovely feel to it. We're excited to see recycled materials improve in look and feel, particularly in fabrics.
"Often we find that recycled materials have a modern aesthetic so call for a project with the same feeling. That limits their use a bit more for us – when the recycled nature of the material is more disguised then there's more scope for application across different types of projects."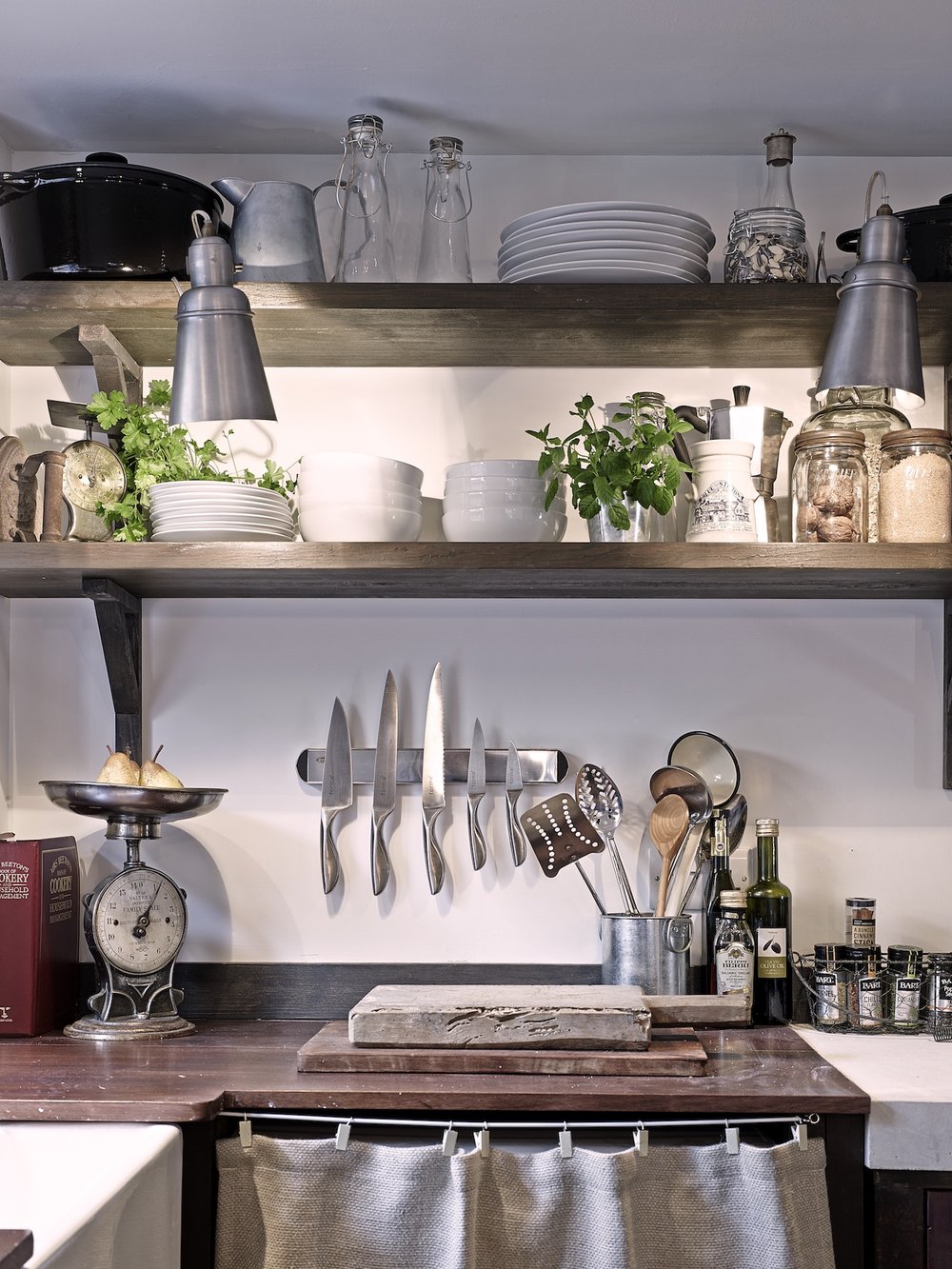 Brighton Cottage Kitchen
How do you find clients respond to such materials? Do they ever specify that they would like such materials to be a part of the scheme?
"Our clients are always pleased to feel that their project is being created and executed in a responsible way. We've only had one client who's highlighted low-environmental impact as a priority, but we don't think many clients are aware of what's available in terms of recycled material, or have the impression that it would be accessible to them."
Have you ever found clients not want to use such materials? Why do you think that was?
"Some clients have mentioned that they wouldn't want environmentally conscious sourcing to limit the success of the result of their project. There's still the perception that there's not much on the market and for that reason they might be missing out."
Do you think there are any ways to develop greater understanding and with it appreciation of materials with recycled content that might encourage clients to seek and use such materials?
"We think if we saw more recycled materials in use on the high street, or public interiors, it would normalise their inclusion in interior schemes for the home. If big names like Ikea or Habitat used recycled materials in their products it would do a lot to change perceptions of how effective they can be.
"It's worth showcasing that while lots of recycled material can be a discreet alternative to non-recycled products, it's can also be really exciting and totally unlike anything you've ever seen before – great for keeping interiors fresh and progressive."
Check out more of Field Day Studio's work over at www.fielddaystudio.com.